Grilled salmon is topped with a heavenly strawberry-balsamic reduction. Perfect for a week-night dinner!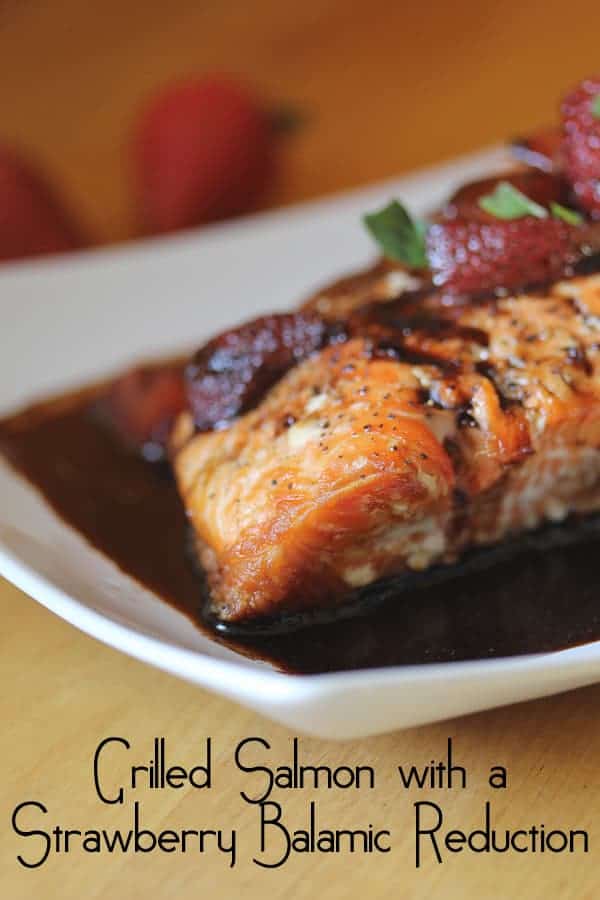 Happy (belated) Canada Day. Or, Happy (early) 4th of July!
Can you believe it is already July? I'm not really sure what exactly happened to June. I can barely recall it.
The fact that July has snuck up on me is a little frightening because it means that I am almost in my 3rd trimester! So, am I all ready for the munchkin's arrival…um…NO.
Let's see…I have…some onsies.
Last week, I had a mild panic attack when browsing a checklist for things to have for when the baby arrives. Holy guacamole, there is a lot of stuff, and as a first time parent, it's hard to gauge which items are essential and which are not. After taking a deep breath, I thought, just take it one item at a time.
Item number one. Crib. Definitely an essential item, right? So off we were to Ikea, on a Saturday, to the kid's department. It. Was. A. Zoo. A preview of the next 5 years of our lives was flashing right before Ben and I. Oh my.
We ended up leaving, crib-less, and will probably get one used on Kijiji. So, we have yet to cross anything off our list. Baby steps. Ha! That was kind of a pun!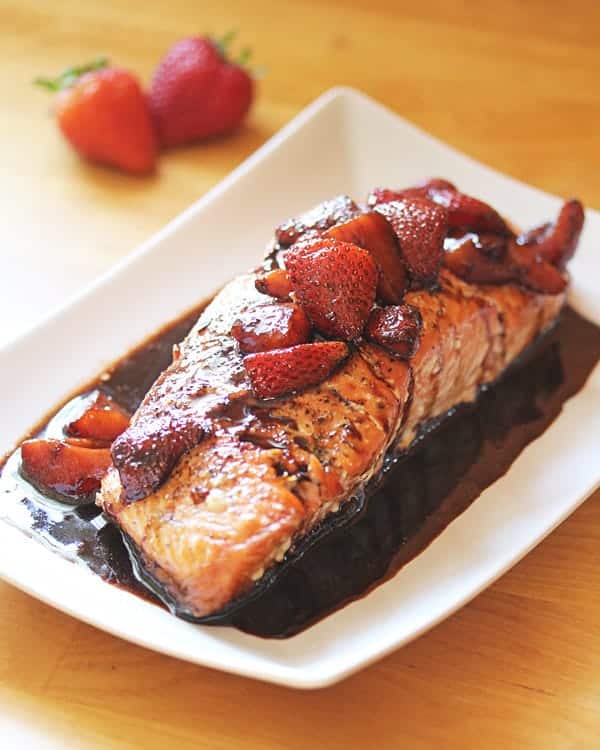 Ok, so you're probably not here to read about my adventures at Ikea. Hopefully you've been drawn in by these images of gorgeous orange salmon and red strawberries.
How on Earth did I get to the salmon-balsamic-strawberry combination? Hear me out:
salmon + balsamic vinegar = 🙂
balsamic vinegar + strawberries = 🙂
therefore strawberries + salmon must = 🙂
So you see, it all comes down to math.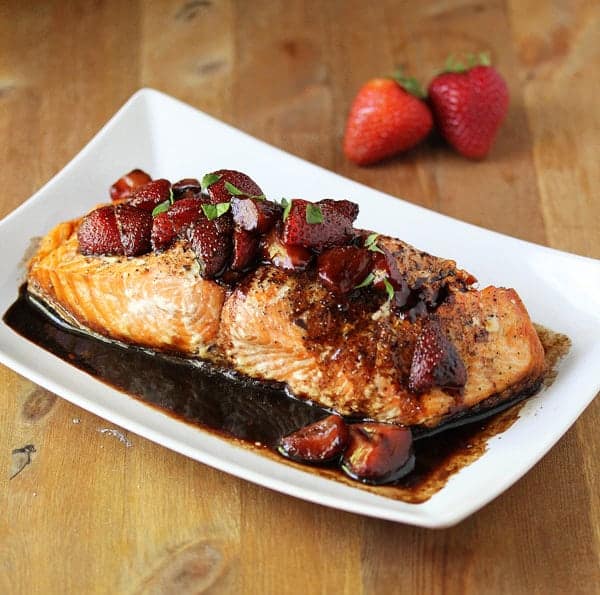 Would you believe that I have made this same recipe 3 times in the past month? It seemed for awhile there that every time I made the recipe, I was a) too tired or b) it decided to go pitch black with some sort of rainstorm/flood apocalypse that made it almost impossible to photograph.
We really didn't mind eating this dish three times over. There were never any left-overs. Every last shred of salmon and every last drop of strawberry-balsamic reduction was gone.
I know you might be thinking that it looks like a lot of sauce for the salmon, but trust me:  you're going to want it all. And whatever you happen to serve it with (I recommend roasted potatoes and veggies) you will use to sop up every last drop of this reduction. It is so good!
Plus: salmon is full of omega 3 fatty acids. For building a smart baby :D.
Grilled Salmon with a Strawberry Balsamic Reduction
A summery way to enjoy grilled salmon: topped with a delicious strawberry-balsamic reduction!
Ingredients
grilled salmon
4

salmon fillets

6 oz approximately

olive oil

salt & pepper
strawberry balsamic reduction
3/4

cups

balsamic vinegar

2

tablespoons

maple syrup

1

teaspoon

dijon

1

clove

garlic

minced

corn starch

optional

2

cups

fresh strawberries

stems removed and quartered
Instructions
grilled salmon
Rinse and dry salmon. Drizzle with olive oil. Season with salt and pepper. Grill on barbecue over medium heat until cooked through (20-30 minutes).
strawberry balsamic reduction
While salmon is cooking, combine balsamic, maple syrup, dijon and garlic in a small pot. Bring to a boil, reduce heat and simmer, uncovered, for approximately 10 minutes.

Optional: This reduction is on the thin side. If you'd prefer a thicker sauce, try adding a small amount of cornstarch (1/2 tsp- 1 tsp) while whisking until smooth.

When sauce has reached desired consistency, add strawberries and cook for approximately 2 minutes, until strawberries are softened. Allow to cool for 5 minutes before serving over salmon.
Recipe adapted from Food Network.