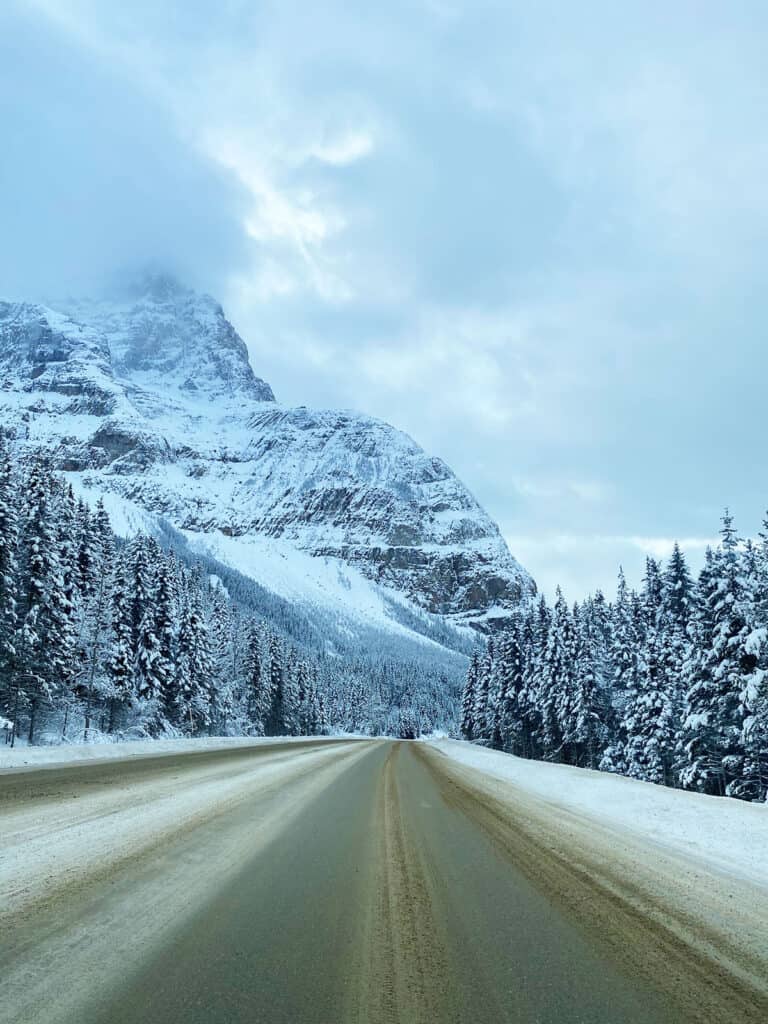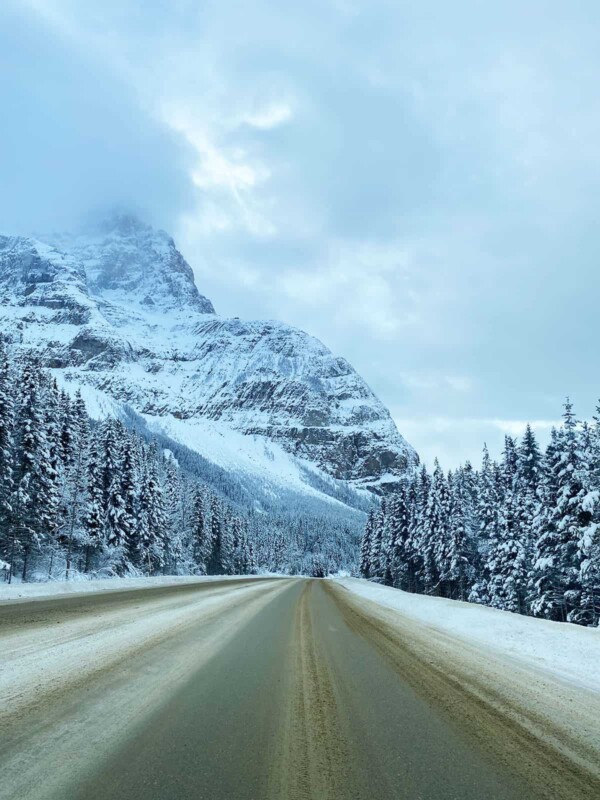 Hello!
Popping in with another catch up. Warning- lots of talk about moving! If you aren't interested in hearing our moving story, you can skip this one 🙂
It has been way too long since I had any time to write up one of these posts...May was our last chat!
Since then, we have been on the roller coaster of selling our home, buying a home, and moving long distance in the middle of a pandemic. We really wanted to go forward with our move even with all the 2020 happenings, because the economy was getting worse in our city (an oil city). It felt like even waiting until spring could result in serious issues with selling our home (spoiler alert- we had trouble selling our home anyways!).
Talk about stressful!! I want to write our experience down, partly for me to let go of the experience, and partly so I can reflect back on it in the future.
Note to future Denise- you do NOT want to move again. Repeat- no moving for a long, long time!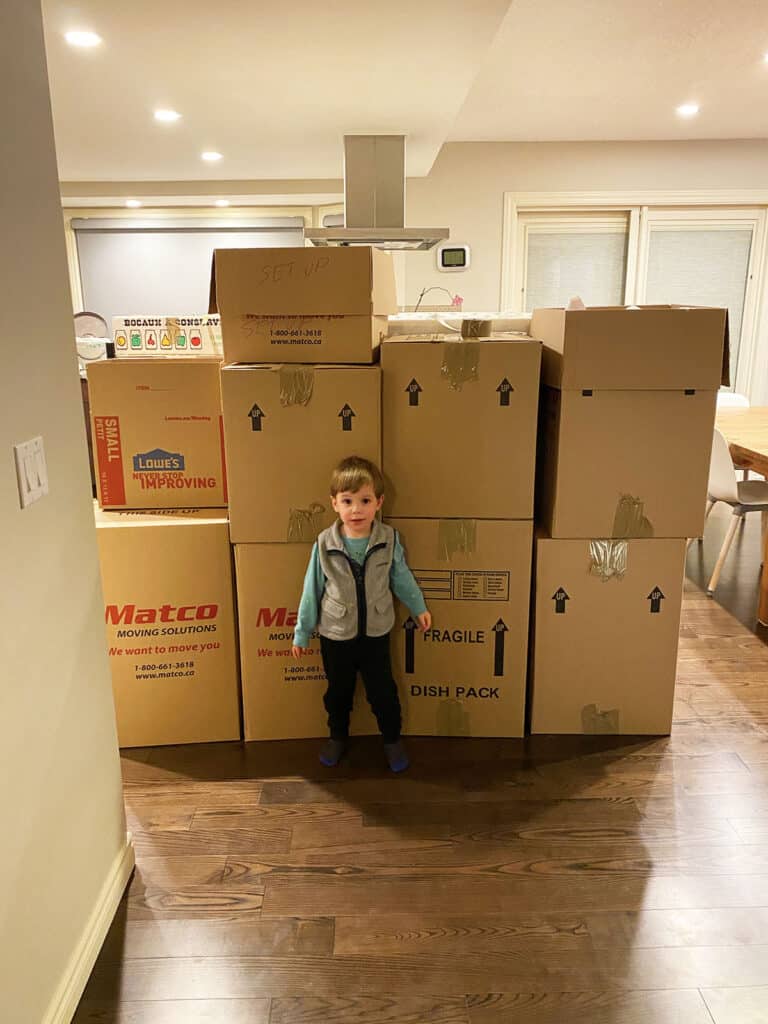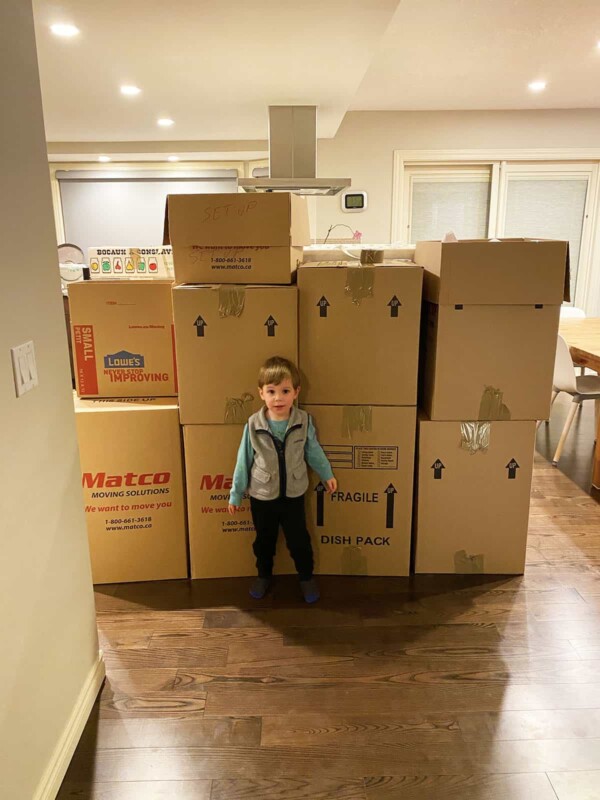 Selling & buying homes
We put our house up for sale in August. Looking back it seems almost hysterical- we actually thought our house was going to sell the first weekend it was up for sale! In our defense, our last house did sell in 48 hours, and the home we were selling had 11 offers on it when we purchased it.
Well. Let's just say it didn't sell the first weekend. Or the second. Or the eighth. The economy had taken a real nosedive, and people were just not out and about house hunting. We cleaned and staged the home for open houses and private viewings probably 25 times. We dropped the house price three times. We got an offer- waaaay below asking, and listing every single piece of furniture in the home (parasites!! We told them to get lost).
That was such an unpleasant phase- so much unknown, wondering if we would ever sell, and if so, how much less than we were hoping for.
Then suddenly- we got an offer. Then a second offer! Two offers in one weekend and we were finally seeing the light at the end of the tunnel.
As soon as we accepted an offer on our home and their conditions/financing was approved, we had to jump. It was 6 weeks until we had to vacate our home and so it was pretty important to find a new home ASAP. I had been looking on MLS for 18 months, so I knew which neighborhoods worked with our budget and our very unique needs: basement walk out suite with good Eastern light, 10 minutes or less from my parents, among other things.
Luckily we found a home that was still being constructed, and it ticked all the boxes, and *just* fit into our budget. We put an offer, it was accepted, and I felt like I could exhale a bit finally!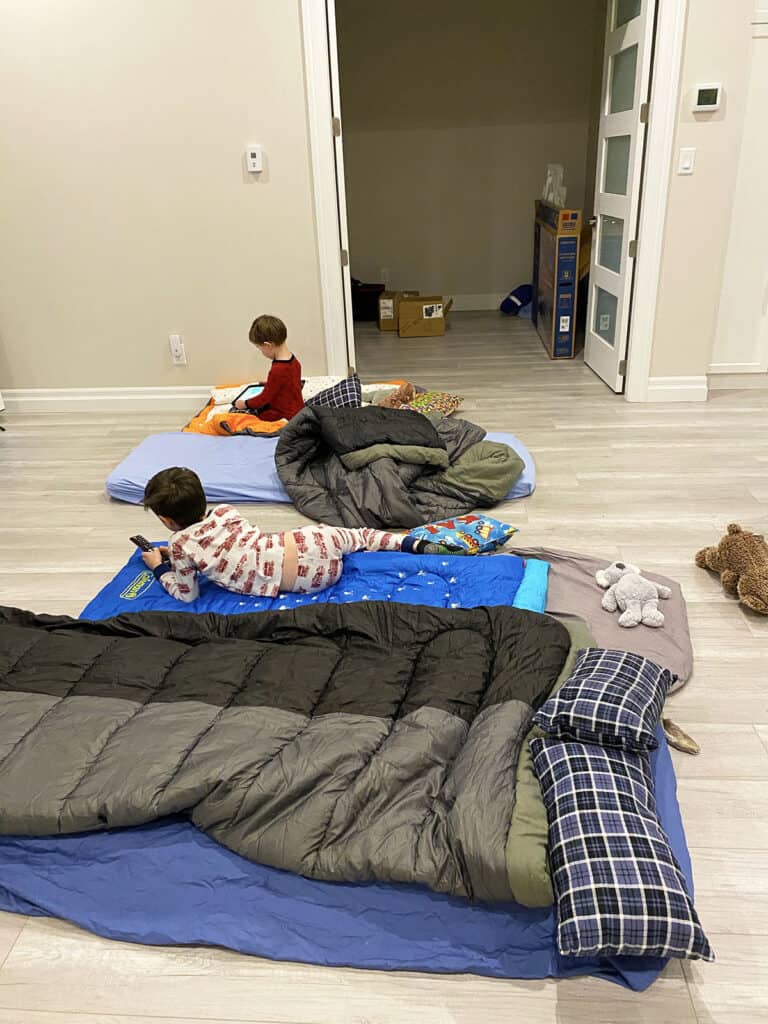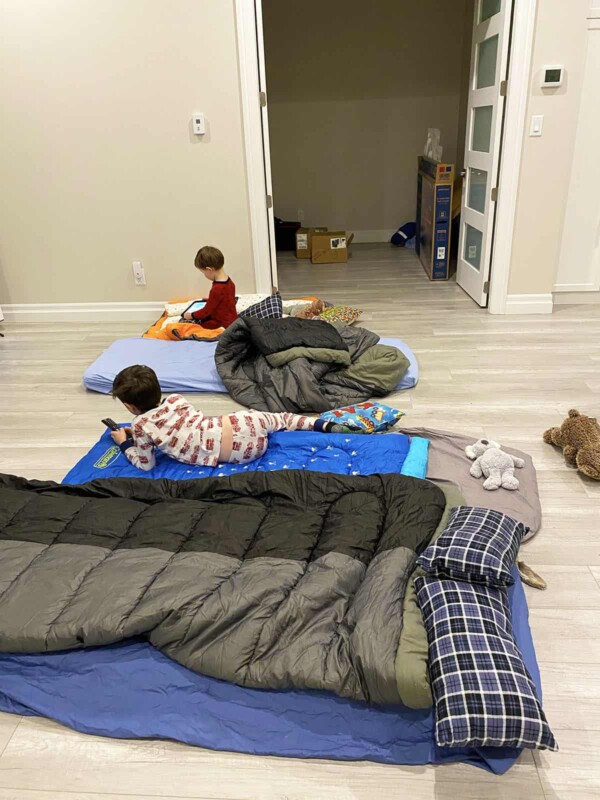 Camping out on the floor with no furniture will be something the kids will remember for a long time!
Moving into our new home
It was such a surreal experience to finally move into our new home. It was a total leap of faith to purchase a partially constructed home and just cross your fingers and toes that it would be done and ready in 6 weeks. Through all this, we only had a few 3-4 second videos from my walk through, and we'd rewatch them over and over, pausing at some points to try to imagine how things would look.
The house was 95% done. The first few days, there were lots of people still in and out of the house, finishing things up, and there are are still a few little things that need to be addressed. We had no furniture for 5 days, and we just camped out on the floor in sleeping bags. I think the kids are going to remember that as a really fun experience!
Finally, our furniture arrived, but we've had no appliances. After 16 days, I'm definitely ready for them to get here now. Like ANYTIME now would be great, ha ha!
I was so glad that the home looked just as good as the builder had promised. Maybe even better! The view is phenomenal, and the kitchen is so beautiful. I love the big bathtub and the walk through closet (makes me feel like Carrie Bradshaw!) The open floor plan is a dream, and the basement suite is so incredible for a work space. Most importantly- we are 10 minutes from family!
We pinch ourselves every day that we can afford a house at all, let alone a brand new one. It was a lot of hard work and saving to get here, but I feel like this is a home we can really stay in for a very, very long time.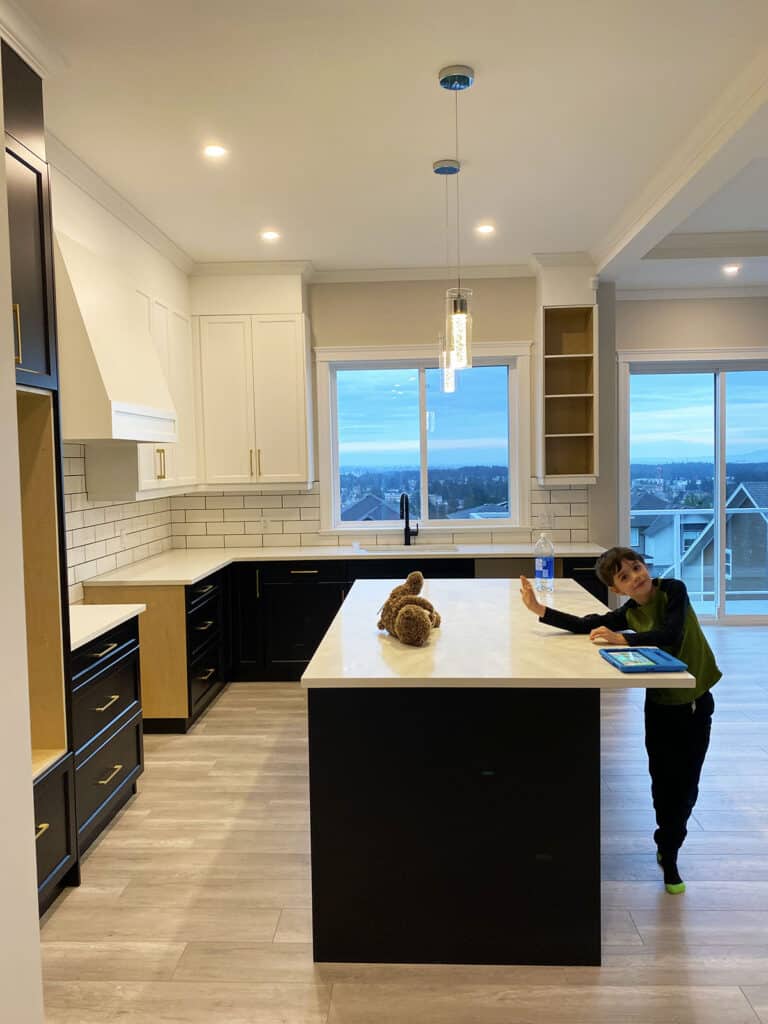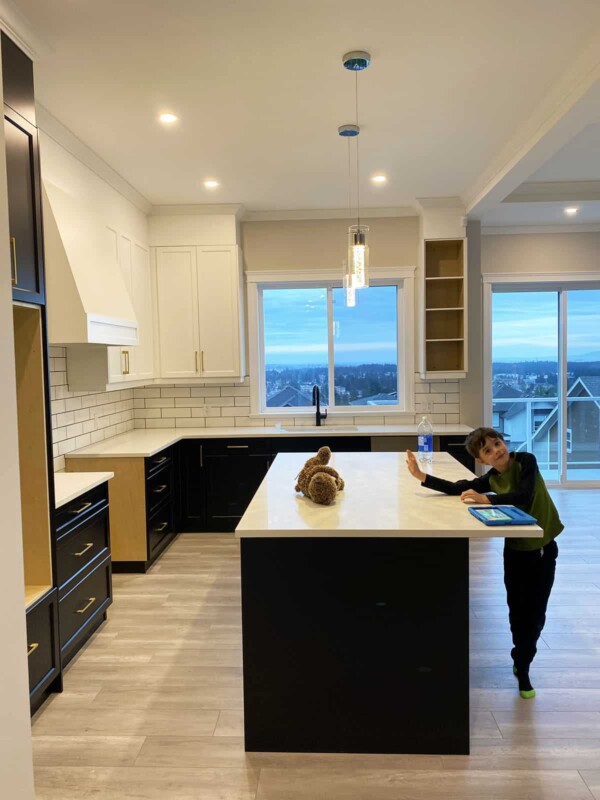 Our new kitchen!
Being cautious during a pandemic
Just after we left Alberta, restrictions were added. And more recently, even tighter restrictions have been added. Travel in BC is restricted to essential travel only- moving really is essential, there is no way to change those dates.
I want to emphasize that we were really cautious through all of this: I had a sore throat and mild cough a week before we moved and made sure I was tested- negative. We were always masked around the movers. I will say it was disappointing that our packers didn't wear masks, even when asked. When travelling, we stayed in our hotel room. Room service only!
And once we arrived in BC, we've kept to ourselves. We had socially distancing visits with my parents- walks 2 m apart, masks on when we weren't, and we did not hang out in indoor spaces at all. It was definitely a bit sad not to be able to share our new home with our family, and not to be able to celebrate the milestone of moving here with them, but we take our duty to keep others safe very seriously.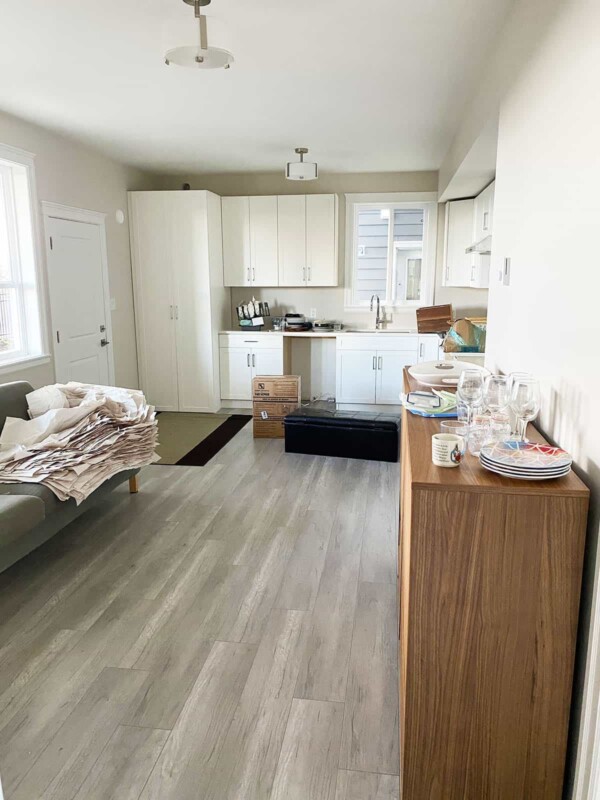 The new studio space for Sweet Peas & Saffron! We will be using this as our YouTube studio in 2021.
Thinking forward- 2021!
2020 has been a hard year, and I'm very glad it is coming to an end. We've worked our way through personal troubles, business issues, the stress of moving, a pandemic, and more. I've grown a lot, been kinder and gentler to myself, and have learned to let go of things that I can't control.
Here are some of my goals for Sweet Peas & Saffron 2021:
convert our basement suite into the new SPS headquarters, complete with a YouTube kitchen studio
hire a new employee for the blog and train them up (stay tuned for more details on this!)
build charity and giving into the blog (stay tuned for details on this)
reflect on, pivot, and eventually relaunch the YouTube channel
continue updating and rewriting old posts
get back into making weekly TikTok videos- they are so fun!
continue to walk towards media coverage rather than shying away- do you know of podcasts or other media looking for guests? Let me know!
Here are some of my personal goals for 2021:
write a family budget and work on paying down our mortgage faster (I've been listening to Dave Ramsey and other financial podcasts lately)
keep writing in my gratitude journal
keep working in walks 3-4 times per week
keep working on creating space in my life- not every minute needs to be productive
work harder on maintaining friendships- this has been a struggle in 2020
lift weights once per week
Thank you for reading through. It feels good to get all that off my chest!
I hope you are safe and well, and that 2020 has not been too hard on you. I think that 2021 has great things in store for us...at least, I am holding this mindset for us!
Happy holidays!
Denise