This Coconut Chocolate Rice Krispie Pancakes recipe gets a little snap crackle and pop from Rice Krispies cereal! An easy and delicious breakfast recipe.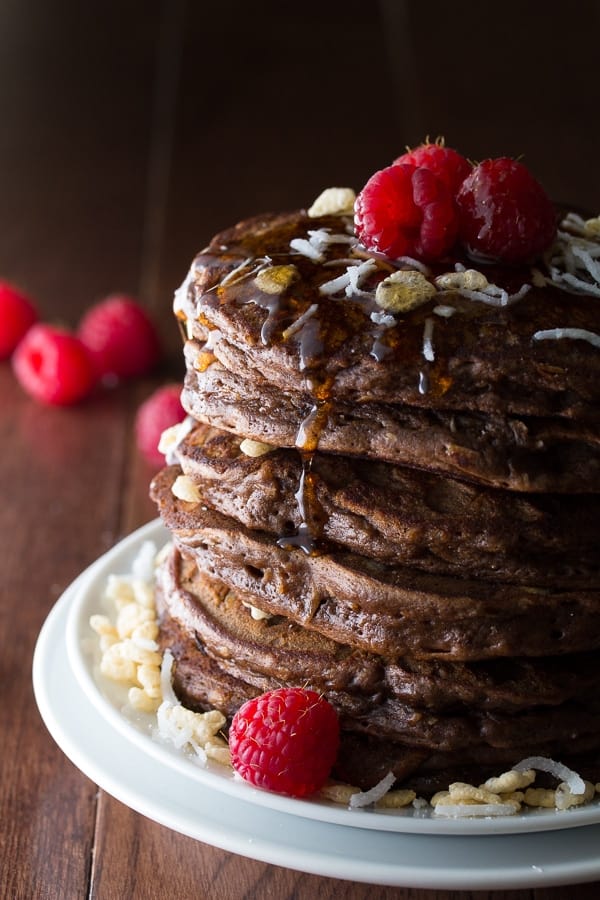 This week-end, Ben and I are going camping! My parents are taking Kai, and he'll spend his first night ever away from his Momma (he probably won't even notice), and we are taking my parent's super swanky camper out into the mountains.
I haven't been camping since I was 5-months pregnant and we did a 2-week road trip through southern Utah. It was fun and beautiful, but totally uncomfortable as we were sleeping in the back of a van, I was full of aches and pains, and had to find the outhouse every 5 minutes.
But this time? We're going in style! My parents are lending us their gorgeous camper, and I'm super excited to camp in luxury! (If you can call that camping…I've had my share of tenting experiences in my life, and that's 'truly camping' to me).
Anyway, getting out of the city, breathing some fresh air, and taking a much needed break from my cell phone (why must you be so addictive?!) will be such a nice change of pace!
And camping always always always makes me think of pancakes. So I made us some!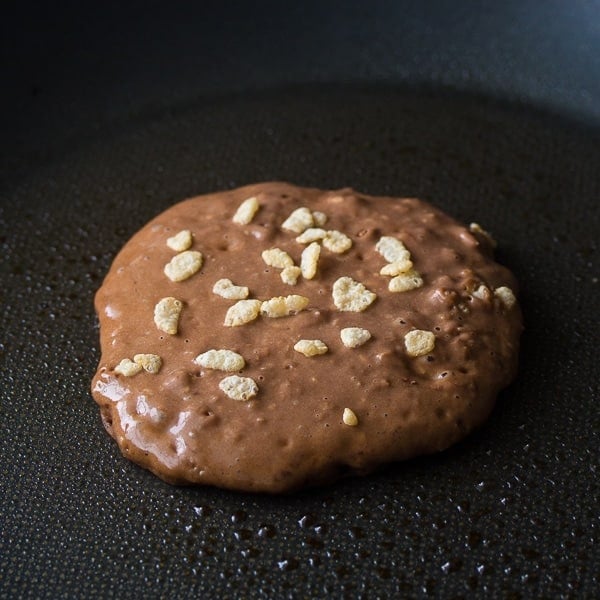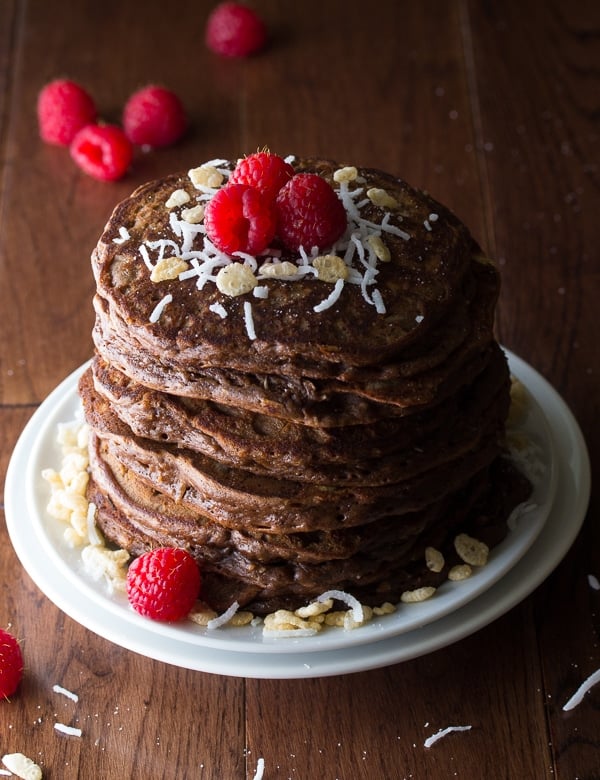 But these Rice Krispies pancakes aren't just any old pancakes. They are chocolatey…and a little bit chewy and a little bit crispy. And totally amazingly delicious when served with maple syrup and fresh raspberries. SO GOOD.
I got the idea to put Rice Krispies in pancakes after sharing my Butterscotch Oatmeal Rice Krispie Cookies on Facebook. They had a pretty good response, and it got the wheels turning. What else can I put Rice Krispies in??
And given that I haven't posted a proper breakfast recipe since November (WHAT IS WRONG WITH ME?!) breakfast it was!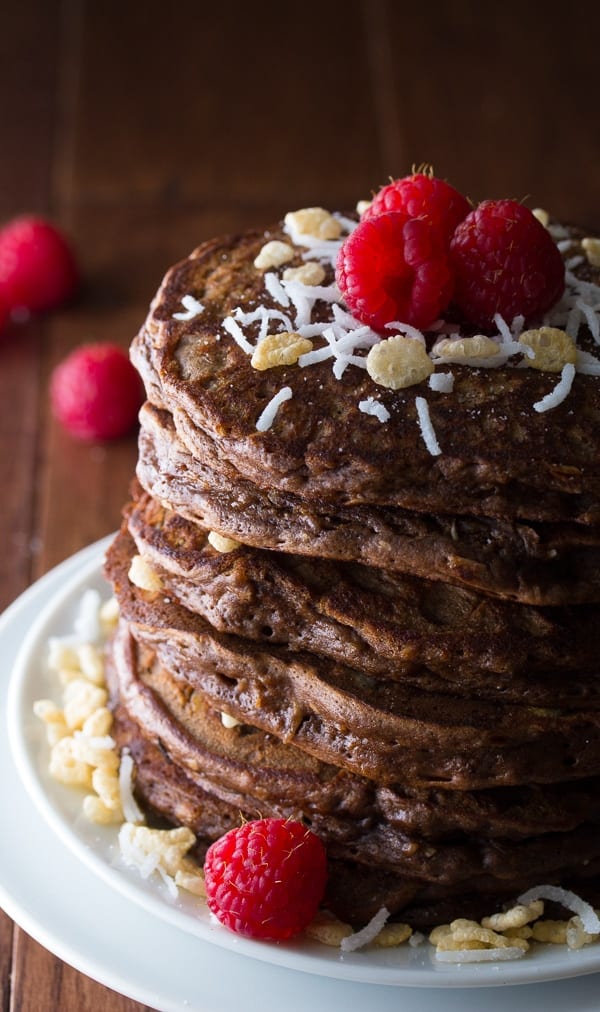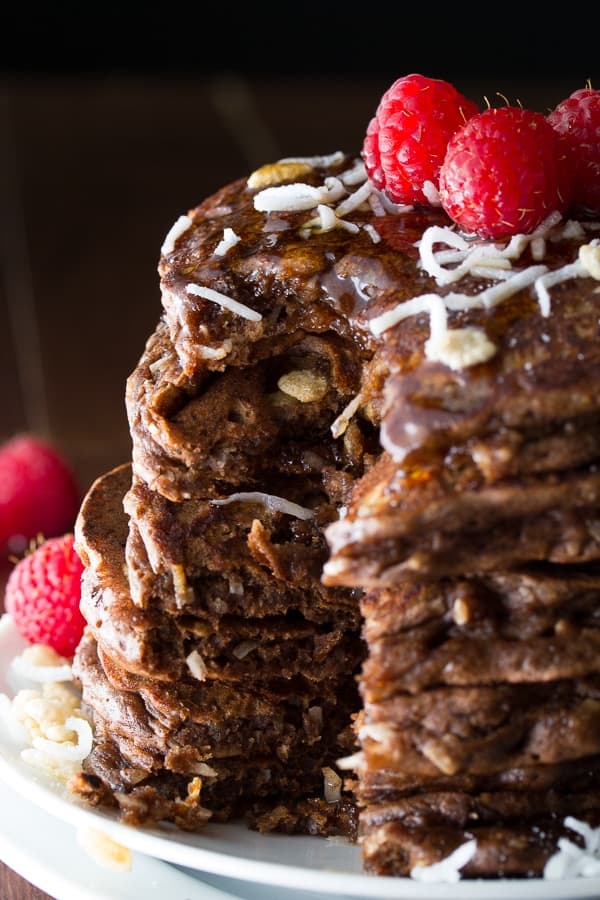 I used the same base pancake recipe as I used for these popular Extra Fluffy Blueberry Almond Pancakes, but I chocolatified them, upped the sugar a touch, altered the yogurt/milk ratio for a slightly less fluffy pancake (although, hello! they are still pretty darn fluffy). Then they had the coconut-krispie treatment.
There are Rice Krispies in the pancake batter, which really ends up as a cool kind of chewy texture that compliments the chewiness of the coconut. But I wanted that crispiness as well, so before flipping the pancake, I scattered some additional Rice Krispies on top.
Pinky swear to me that you will serve these with fresh raspberries? Promise? Because the coconut-chocolate-krispie-raspberry combination is just divine. Even better with maple syrup, even though that may sound kind of weird with coconut and chocolate. It just works.
Yesss. Coconut Chocolate Rice Krispie Pancakes…I know, it's a mouthful (and I just made a pun…ha ha ha!)  Now go and make them!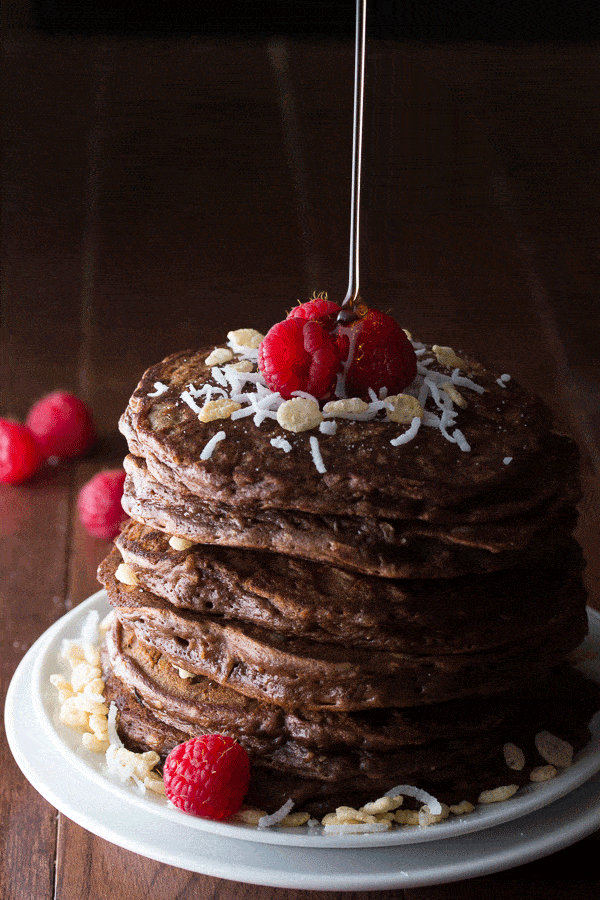 Coconut Chocolate Rice Krispie Pancakes
This Coconut Chocolate Rice Krispie Pancakes recipe gets a little snap crackle and pop from Rice Krispies cereal! An easy and delicious breakfast recipe.
Ingredients
1

cup

all purpose flour

125g

1/2

teaspoon

baking powder

1/2

teaspoon

baking soda

1/4

cup

sugar

1/4

cup

cocoa powder

1

egg

1/2

cup

whole yogurt

not greek

1/2

cup

milk

I used 1%, do not use buttermilk

1/2

teaspoon

vanilla extract

1

cup

Rice Krispies

plus another 1/2 cup or so

1/2

cup

sweetened shredded coconut
Instructions
Heat a non-stick frying pan over medium heat, spray with oil to coat.

In a large bowl, stir together the dry ingredients: flour, baking powder, baking soda, sugar and cocoa powder.

In a separate medium bowl, add the egg and beat it with a fork. Stir in the yogurt, milk and vanilla.

Stir the wet ingredients into the dry ingredients, then fold in the rice krispies and coconut.

Cook ¼ cup or so sized pancakes for 1-2 minutes per side. Sprinkle 1-2 teaspoons of additional rice krispies over the pancakes before flipping.

Serve with fresh raspberries and syrup.
Notes
Makes 8 pancakes, which feeds 2-3 people. Be sure to double or triple this recipe if you are feeding a crowd!
Nutrition
Serving:
1
pancake
|
Calories:
156
kcal
|
Carbohydrates:
27
g
|
Protein:
4
g
|
Fat:
4
g
|
Saturated Fat:
2
g
|
Cholesterol:
23
mg
|
Sodium:
124
mg
|
Potassium:
153
mg
|
Fiber:
1
g
|
Sugar:
10
g
|
Vitamin A:
6
%
|
Vitamin C:
2.7
%
|
Calcium:
5.5
%
|
Iron:
13.1
%
Products used in this recipe:
You may also like: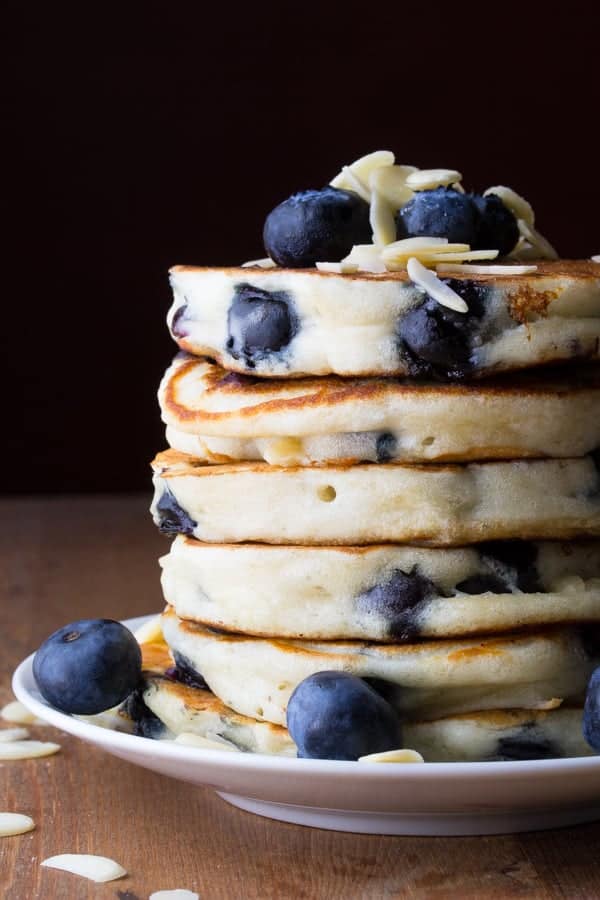 Extra Fluffy Blueberry Almond Pancakes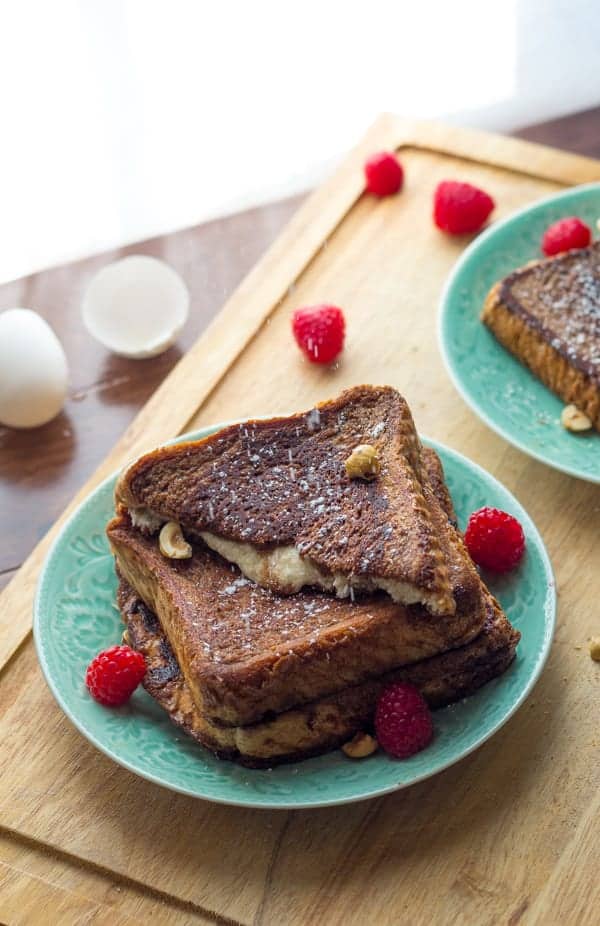 Mascarpone-Stuffed Chocolate Espresso French Toast