30-Minute Ginger Beef Tacos with Peanut Sauce: A fast and delicious recipe for ground beef cooked up with ginger, topped with crunchy veggies, and drizzled with a ginger-peanut sauce that is to die for!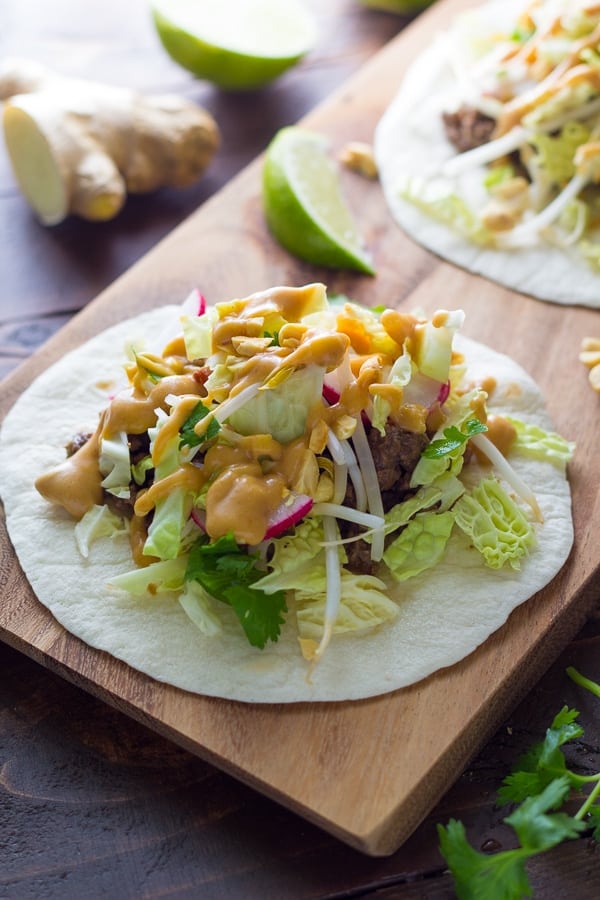 I think by now we've established that I am not a meal planner.  I want to be!  Maybe some day I'll get it together.  For now, I'm kind of winging it with dinner.
I think there are a lot of us super-busy, not-so-organized and winging-it-people out there, and guess what?  I want to make our last minute 'what's for dinner' freak-outs a little easier to deal with.  Also: a lot more exciting!
So guess what you're going to be seeing around here?  Lots and lots of 30-minute dinners.  Definitely some more one-pot dinners.  And more slow cooker recipes (which admittedly do take a bit more organization but make dinners SO much easier).  Easy dinners with little effort and lots of flavor.
And guess what you're not going to see around here: crazy ingredients you need to Google, or that will send you across the city to seek out ingredients.  Also: the same old fall-back last-minute dinner foods.  Let's mix it up!  What do you think?