Slow Cooker Sweet Potato Chicken Curry can be assembled ahead and stashed in the freezer for an easy, flavor-packed dinner.  When you're ready to serve, thaw and dump in the slow cooker and you're ready to go!
Things I forgot about pregnancy:
That feeling you get at the end of the day when you finally get to crawl in bed…the whole world stops, your bed seems to 'hug' you, and you let out a big 'aaaaaah'.  Best feeling of the whole day!
The way you can go from perfectly fine to a hangry crazy person who NEEDS. FOOD. NOW!!!  I learned I can never leave the house without a granola bar.
Those cravings. They become like an obsession where you need to have nachos/fettuccine alfredo/pizza/insert-unhealthy-carb-of-choice-here, and you won't be able to rest until you have them.  And when you finally get your craving, it tastes like the BEST thing you've ever eaten (even if it's from the freezer aisle of the grocery store).
My cravings have been so unhealthy, but now I'm emerging from the morning sickness/survival stage, I'm happily craving and eating much healthier food that's better for me and the baby.  This slow cooker sweet potato chicken curry was one of my cravings, and I happily ate every bite right up.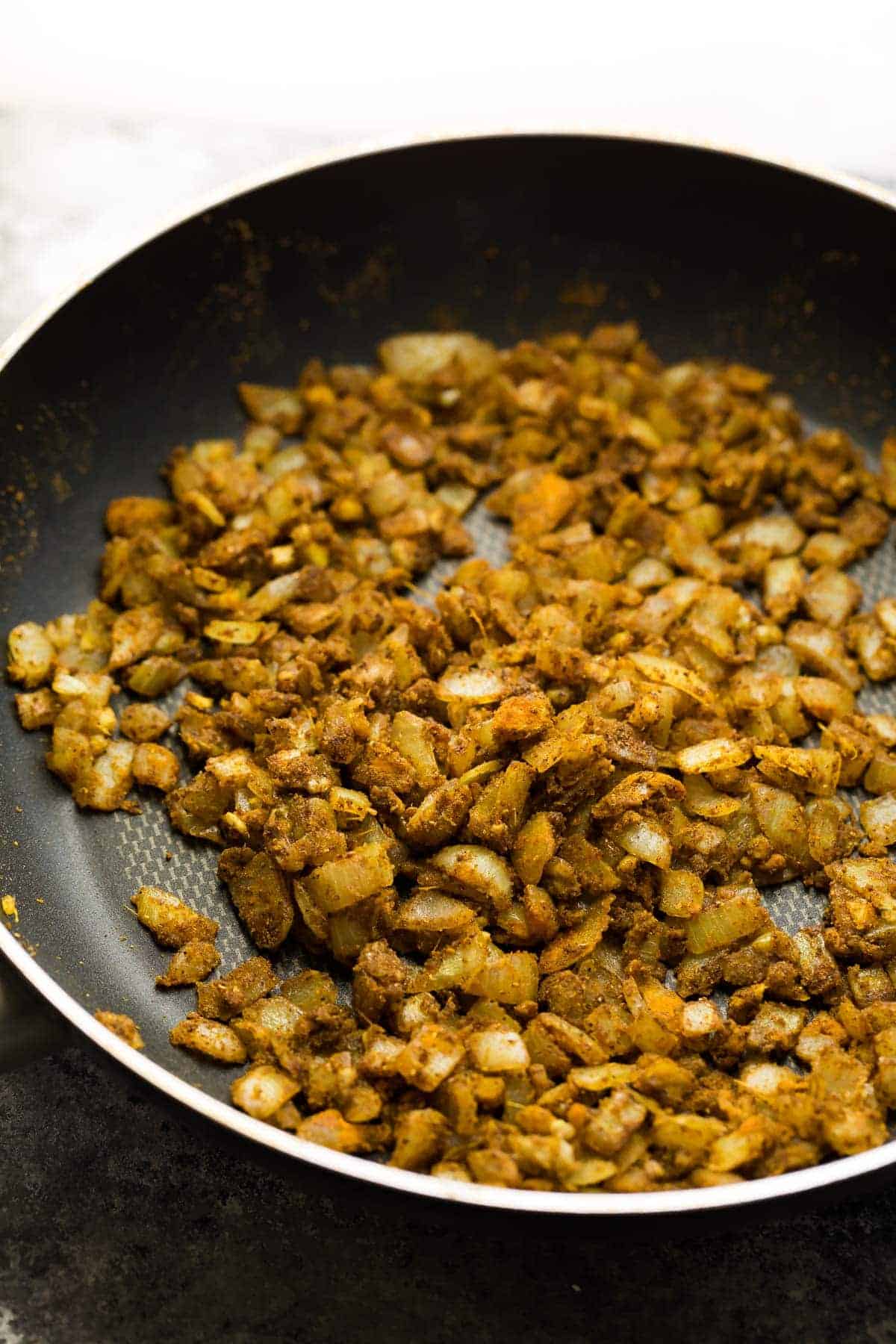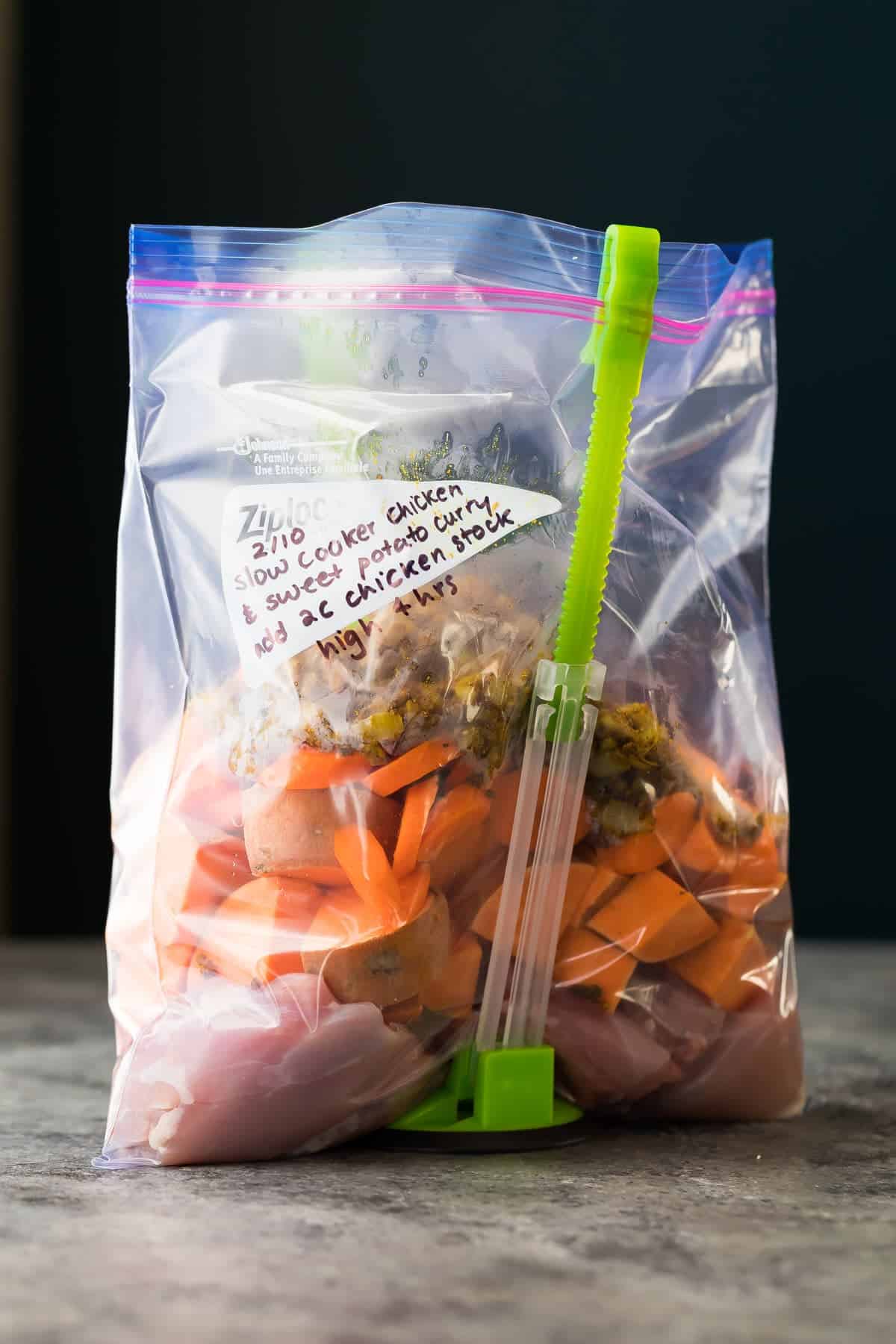 I've been working hard to come up with some meal prep dinner recipes, and this is my second freezer to crock pot recipe.  Check out this Healthy Slow Cooker White Chicken Chili (Freezer to Crock Pot)!
This is another recipe I photographed back in February and I'm happy to be sharing it with you finally!  It started out as a variation of the Ymir Curry from the Whitewater Cooks (awesome cookbook BTW!)
, but I was looking for a recipe that doesn't include lemongrass, galangal root, or kaffir lime leaves, because I want my recipes to be made with ingredients accessible to everyone.
So I experimented and after 3-4 batches, ended up with this delicious and SUPER flavorful curry, made with stuff you should easily be able to find in your store.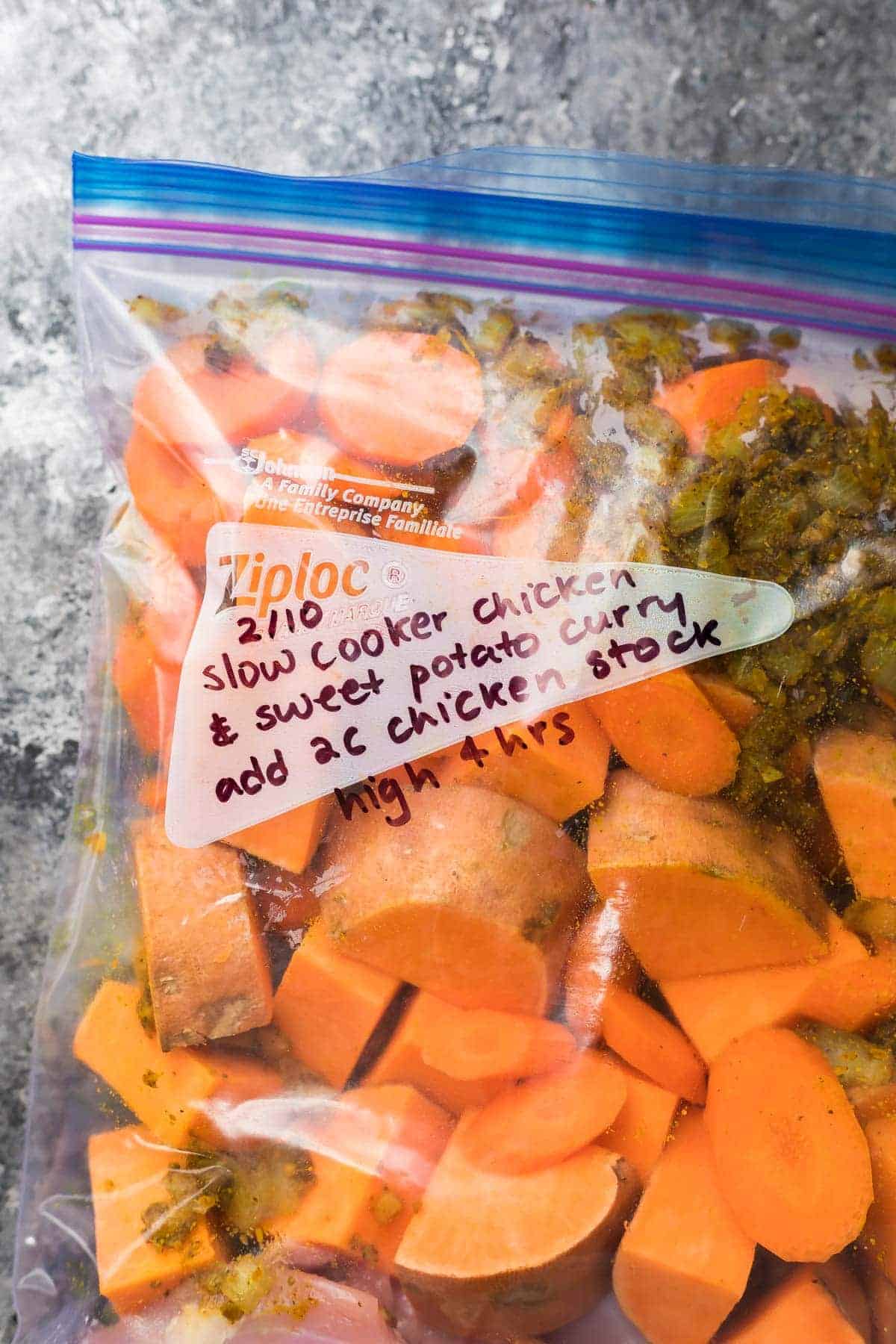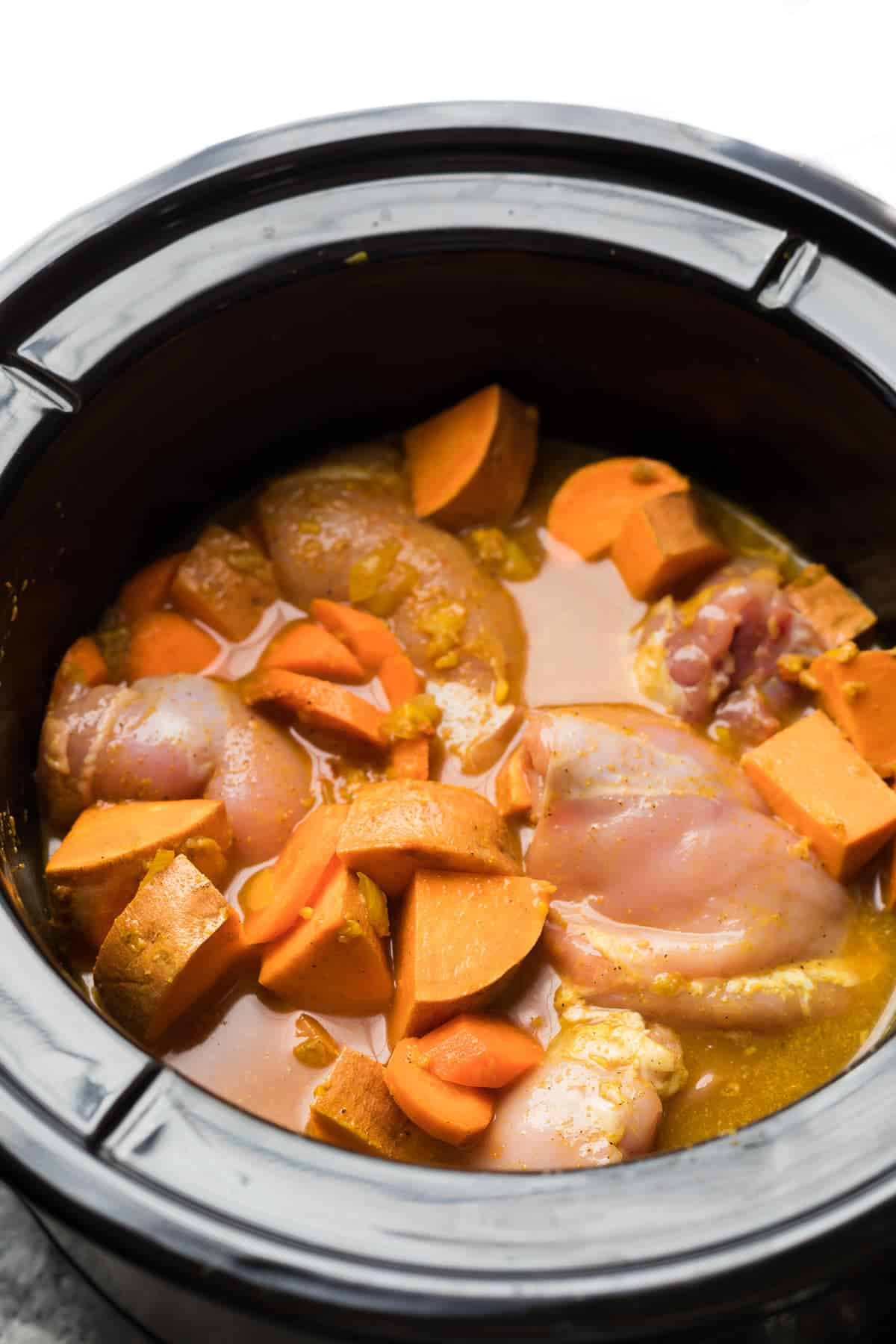 Here's my warning to you.  WARNING: this slow cooker sweet potato chicken curry is on the sweet side!  (It's not JUST sweet, it has all those beautiful contrasting curry flavors: savory, spicy, sour, and all those delicious spices).
Personally, I love a sweeter curry.  But if that's not your preference, this is not the recipe for you.  As the sweet potato cooks, it breaks down a bit, thickening the sauce and sweetening it too.
Some suggestions to reduce the sweetness: swap some or all of the sweet potatoes with red potatoes.  Or omit the brown sugar.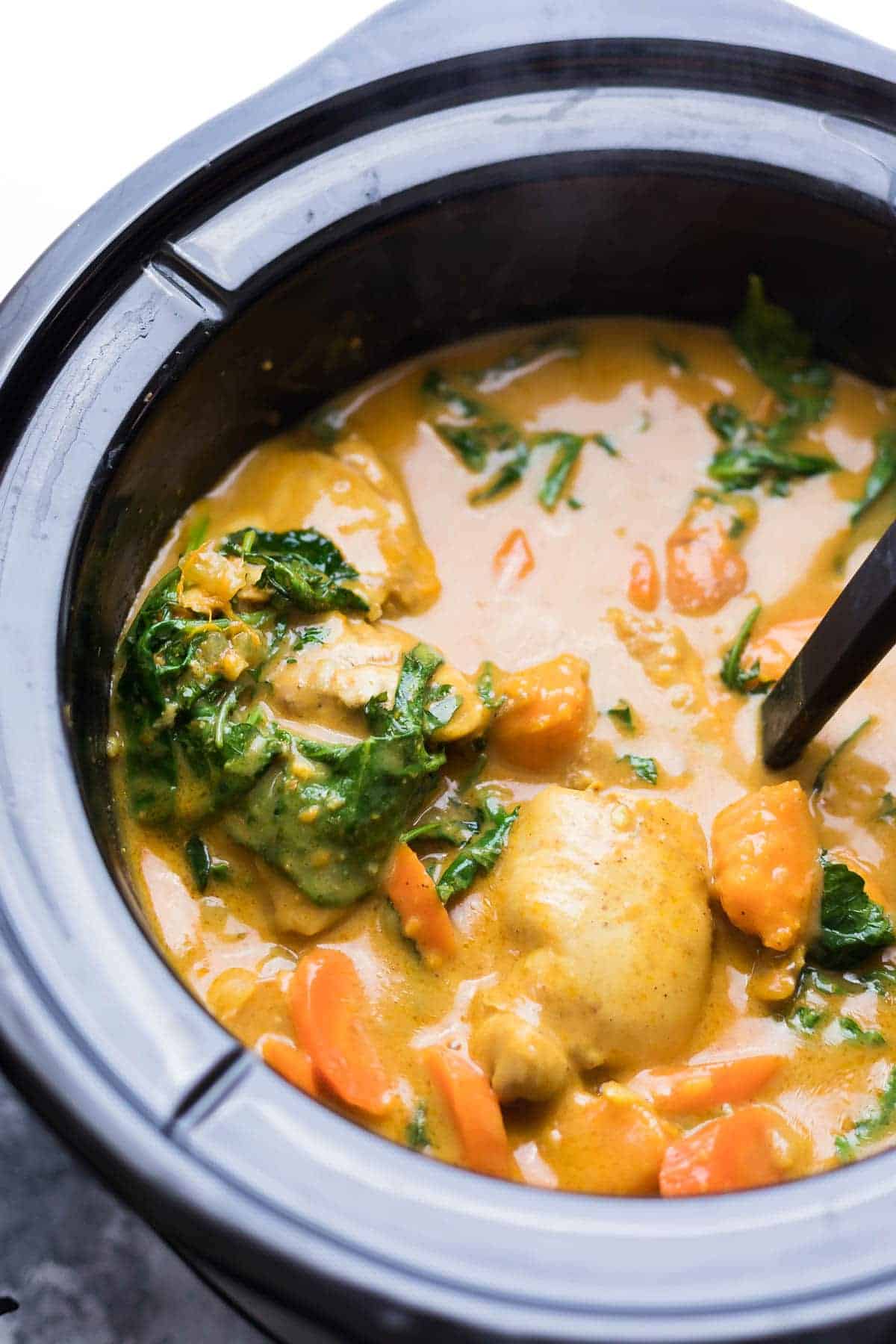 So.  The thing about this curry is that you do need to make a 'flavor base' before freezing or throwing in the slow cooker.  I love recipes that you can dump straight into the slow cooker without pre-cooking, but unfortunately that just doesn't give the same flavor for this recipe.
The flavor base= onions + garlic, ginger, and allllll of the spices in this recipe, sauteed together to make the most deeeelicious base to your recipe.  It takes a total of 10 minutes, so it's not really too much effort, and you will be rewarded with some serious flavor!
And the best part: it's freezer-friendly!  You can assemble all of your ingredients (minus the chicken stock), and freeze them for up to 3 months before thawing and dumping in the slow cooker.  I was worried about freezing the raw sweet potatoes, and they browned a tiny bit, but after 4 hours in the slow cooker, I wouldn't have guessed in a million years that the whole thing had been frozen.
Tips for your perfect slow cooker sweet potato chicken curry
reduce the sweetness: omit the brown sugar and swap half (or all) sweet potatoes with red potatoes
make it vegetarian! Omit the chicken thighs, and use one or two 19 oz cans of chickpeas (add after curry has cooked through).
add some extra veggies an hour before serving: snap peas, sliced bell peppers, cauliflower florets, etc
Equipment and ingredients
Slow Cooker Sweet Potato Chicken Curry (Freezer to Crock Pot)
8
adjust servings
Ingredients
1

tablespoon olive oil

1

tablespoon brown sugar

1

cup onions, minced

4

cloves garlic, minced

1

tablespoon ginger, finely chopped

1

tablespoon Thai red curry paste

2

tablespoons peanut butter

2

teaspoons garam masala

2

teaspoons ground cumin

1

teaspoons turmeric

1/2

teaspoons salt

1 1/2

lb boneless skinless chicken thighs (roughly 9)

4

cups sweet potato cut into 2-inch cubes (1 large sweet potato)

3

carrots, peeled and diced

2

tablespoons fish sauce

2

cups chicken stock
After cooking
4

large handfuls of spinach or baby kale

400mL

coconut milk (full fat)

1

tablespoon lime juice
Instructions
Heat oil over medium heat in a medium pan.
Add onions and brown sugar and sautee until onions are cooked through, around 5 minutes.
Add the garlic and ginger, and cook for 2 minutes, until fragrant and soft.
Add the curry paste, peanut butter, garam masala, cumin, turmeric and salt. Stir to coat onions and toast spices for 2 or so minutes.
Remove from heat and allow to cool.
To cook right away:
Transfer the onions to the base of a 5 quart slow cooker along with the chicken, sweet potatoes, carrots, fish sauce and chicken stock.
Cover and cook on high for 4 hours or low for 6 hours, until sweet potatoes are cooked through.
Stir in the spinach/kale, lime juice and coconut milk, cover and cook for 5 minutes.
Serve over rice or with naan bread.
To assemble ahead:
In an 8-cup storage container or a quart-sized heavy duty freezer bag, add the chicken, sweet potatoes and onion/spice mixture.
Seal and freeze for up to 3 months.
Thaw completely before cooking. Add thawed mixture to the slow cooker and stir in 2 cups of chicken stock and 2 tablespoons fish sauce.
Cover and cook on high for 4 hours or low for 6 hours, until sweet potatoes are cooked through.
Stir in the spinach/kale, lime juice and coconut milk, cover and cook for 5 minutes.
Serve over rice or with naan bread.
Recipe Notes
Nutritional Information:
⅛ batch, about 1 cup
Calories 322 // Fat 16 g // Saturated Fat 7 g // Cholesterol 69 mg // Sodium 821 mg // Carbohydrate 27 g // Fiber 4 g // Sugars 8 g // Protein 22 g
This curry is medium-spicy (this will depend on your curry paste).
The sweet potatoes are fall-apart tender and dissolve a bit into the sauce.