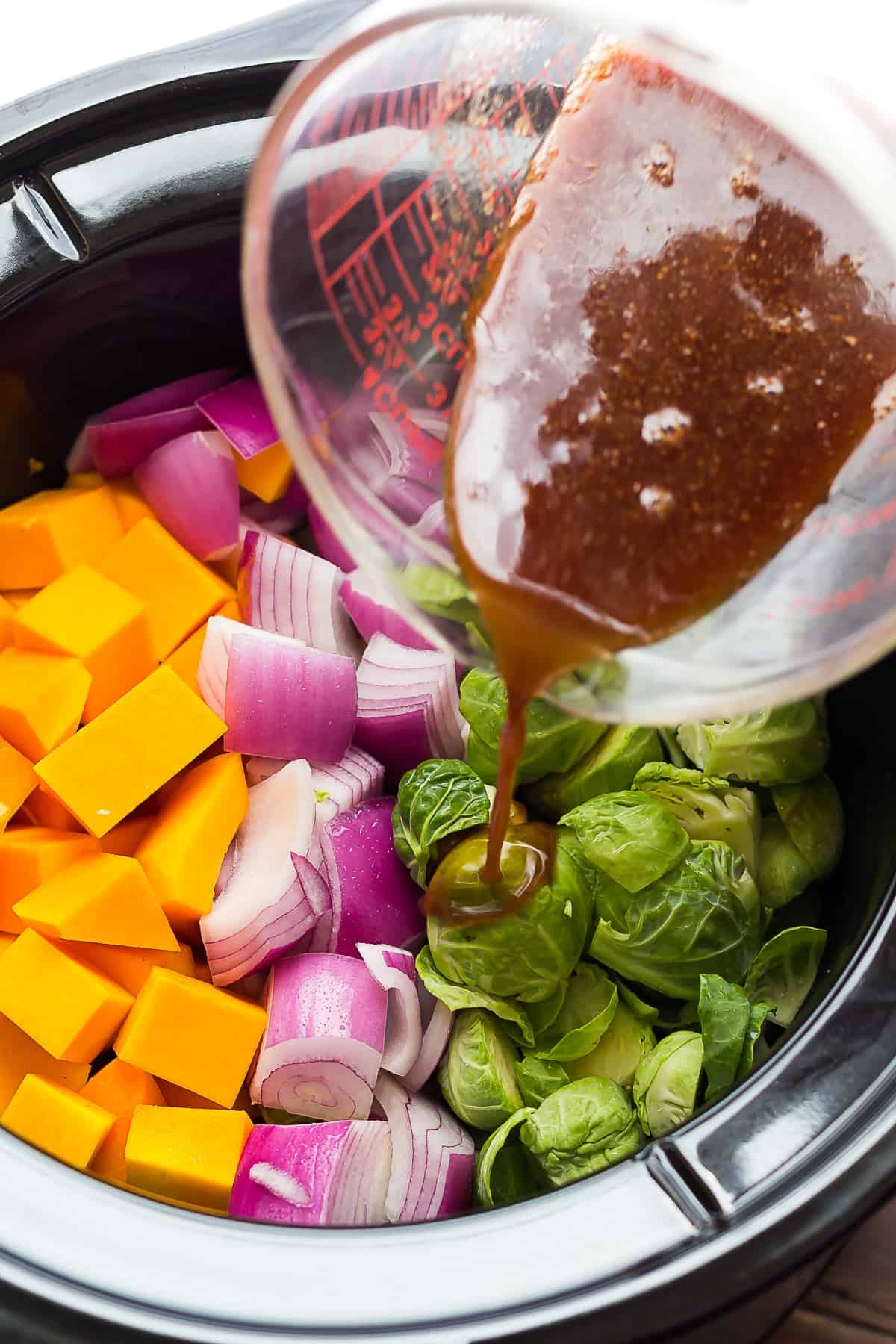 Make the holidays easier with these slow cooker Brussels sprouts with butternut, pecans and cranberries.  Instructions to prepare them in a slow cooker or on a sheet pan, so you can maximize your oven space!
Update: recipe was updated 12/6
Family tradition and holidays go hand in hand.  When I close my eyes and picture my family's table during the holidays growing up, I see tradition.  I see turkey, I see stuffing, I see cranberry sauce.  And somewhere on that table, I definitely see Brussels sprouts.
Brussels sprouts are that holiday tradition that I really didn't understand growing up, and to be honest, avoided.  Every year, my mom did the bulk of the heavy meal prep (the turkey and stuffing), but curiously, my dad always made sure that the Brussels sprouts made it on the table.
I recently asked my dad why he was so adamant that those Brussels sprouts make it on the table each year, and got a surprising answer.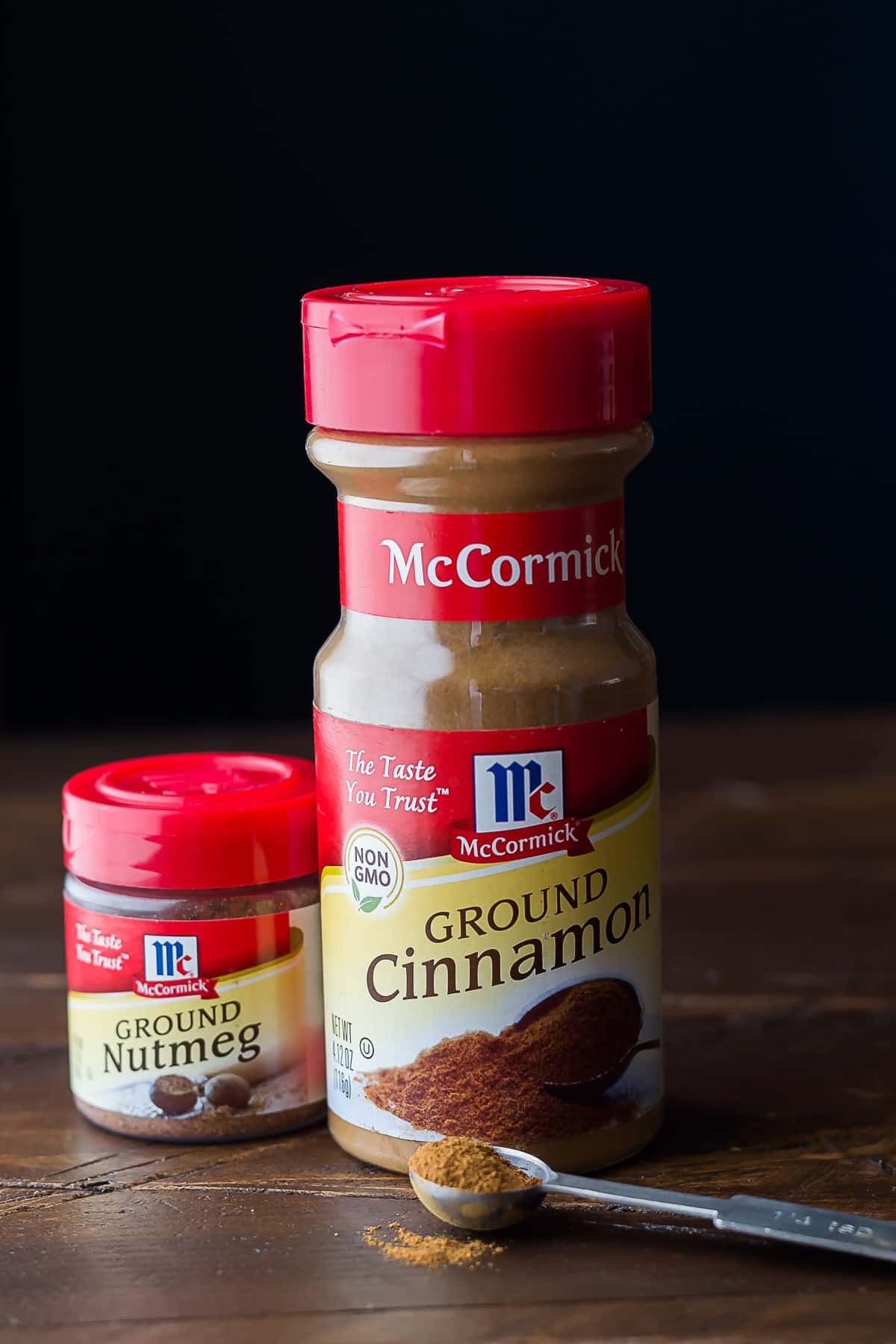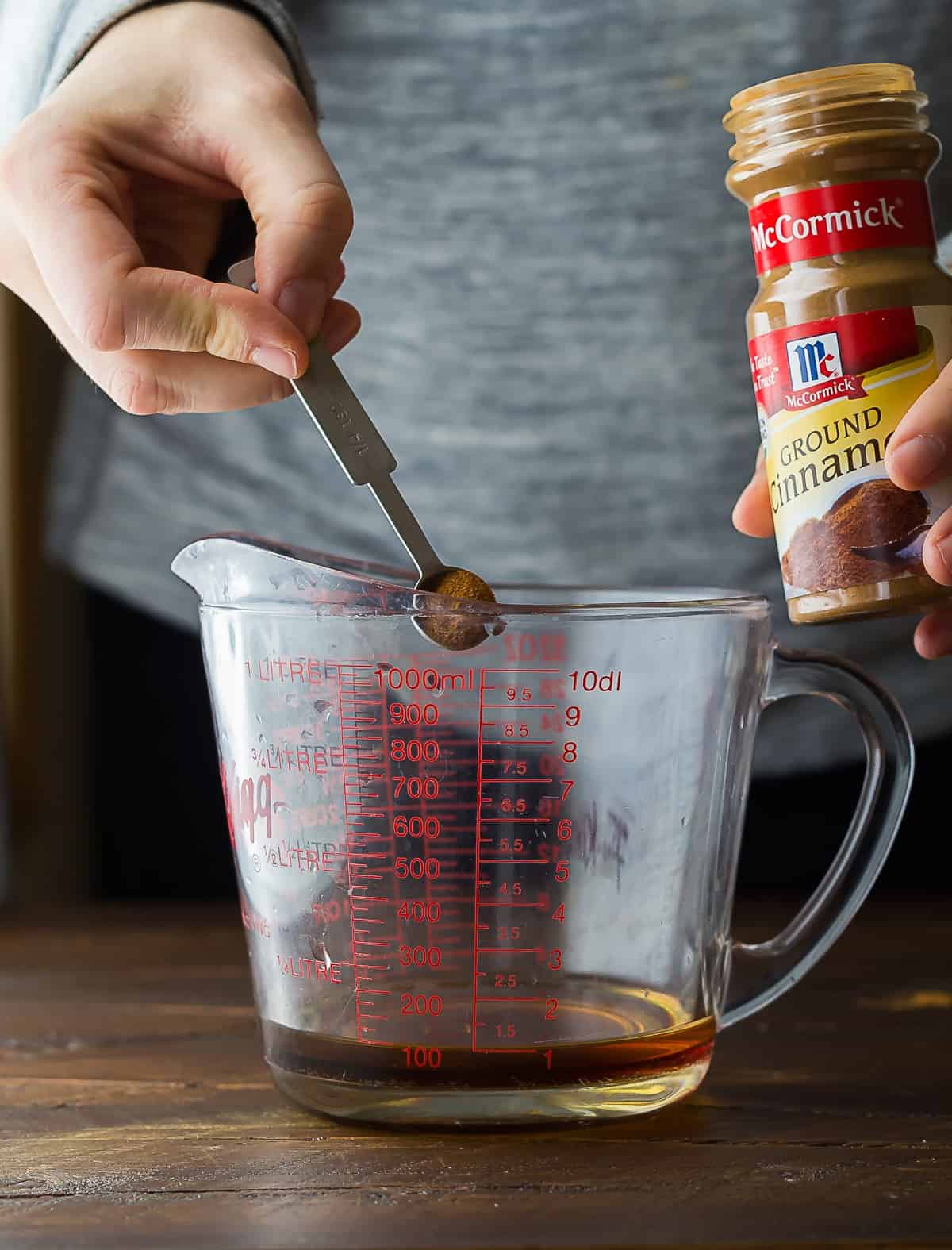 He thought for a moment, and told me that it just wouldn't be Thanksgiving without Brussels sprouts. Growing up, his family didn't have much, and they lived and ate simply.  They made do with what they had, and my grandmother always grew Brussels sprouts in her vegetable garden.
As a child, he'd watch those Brussels sprouts grow, and every Thanksgiving it was his job to prepare them.  His method is and has always been simple: Brussels sprouts, gently simmered, drained, and dolloped with butter.
Hearing this story gave me new respect for that ever-present bowl of Brussels sprouts from my childhood.  To my dad, those Brussels sprouts aren't just Brussels sprouts.  They are the spirit of Thanksgiving.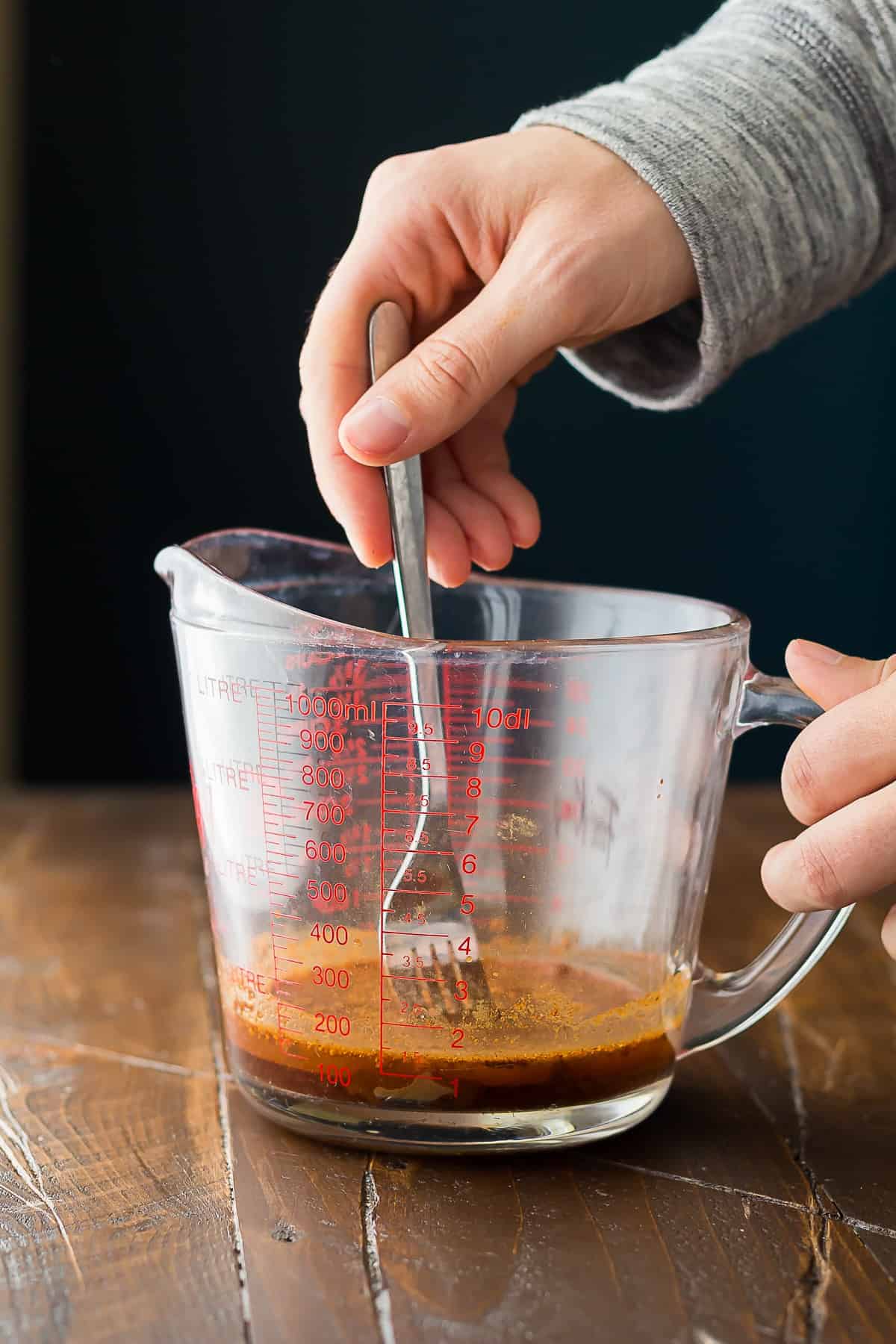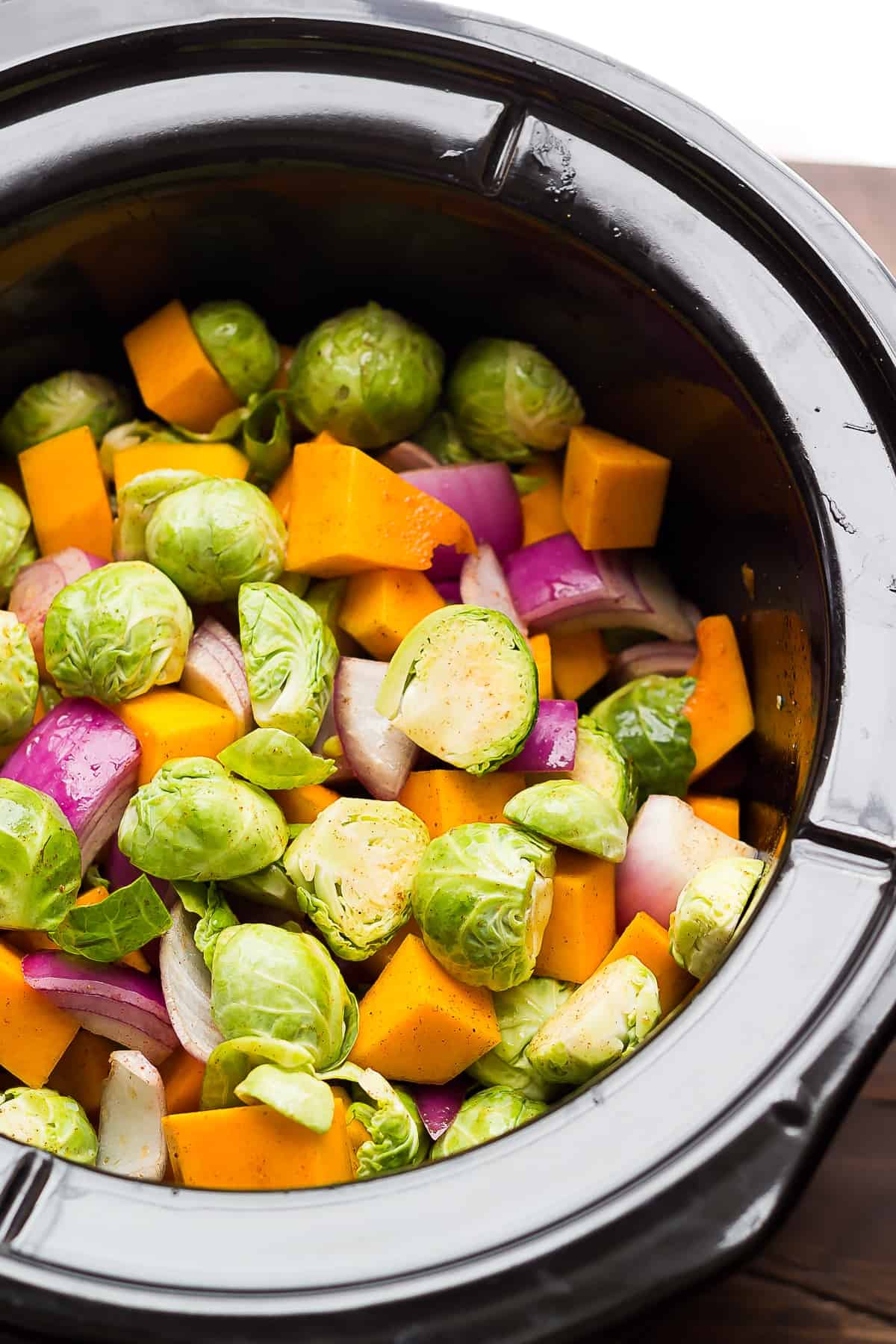 Honestly?  Now that I'm all grown up and haven't shared a holiday meal with my parents in quite a few years, Brussels sprouts haven't made it on my holiday table.  But that's changing this year, thanks to McCormick, who are on a mission to help people discover lost family recipes.
McCormick spices have been a part of every single holiday that I can remember, and I knew I could count on them to help me bring my Dad's lost recipe back to my holiday table.
I decided that if Brussels sprouts were coming back to my table, they were going to do so in style.  Jazzed up with some McCormick ground cinnamon and ground nutmeg, because to me, these two spices are the essence of the holidays.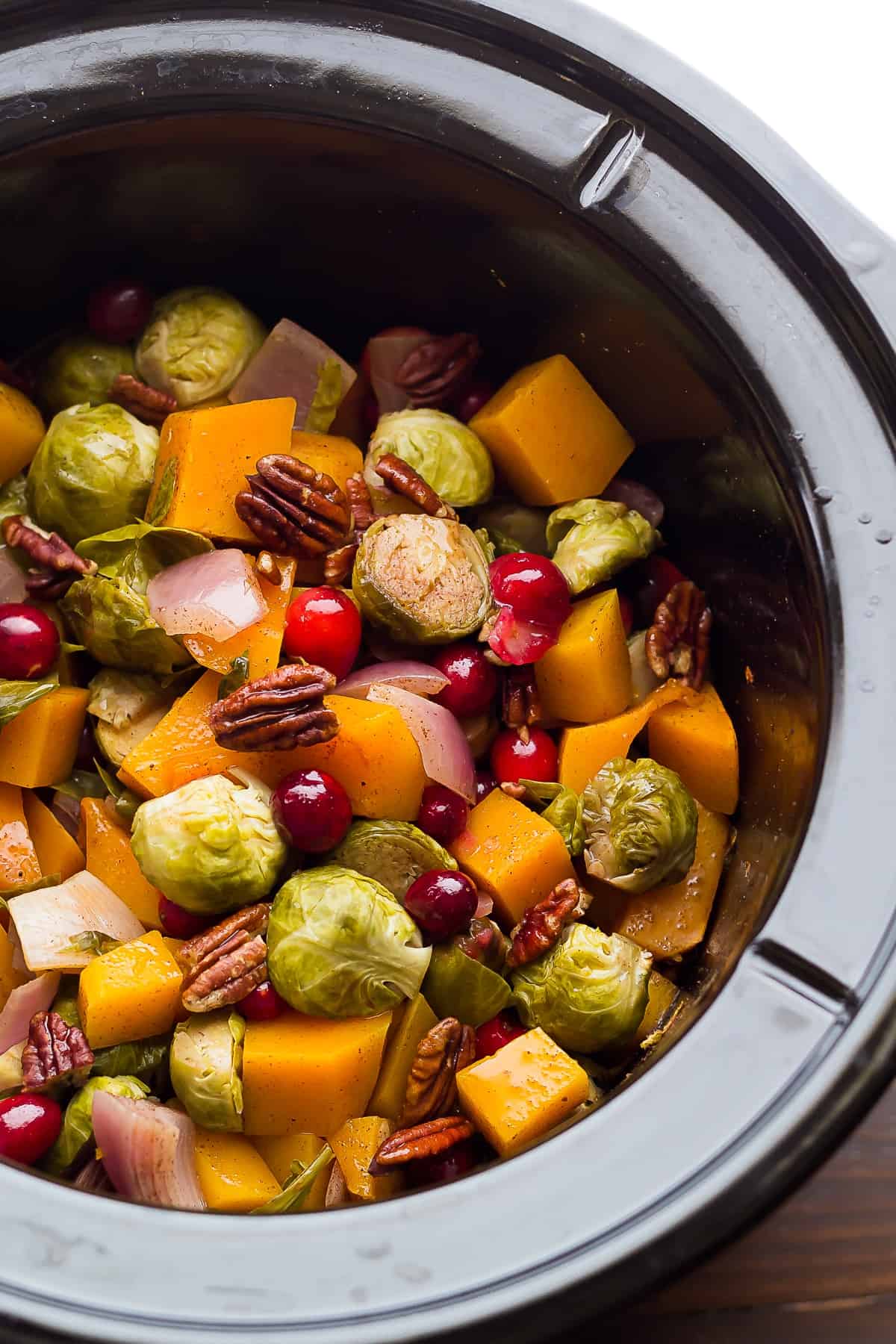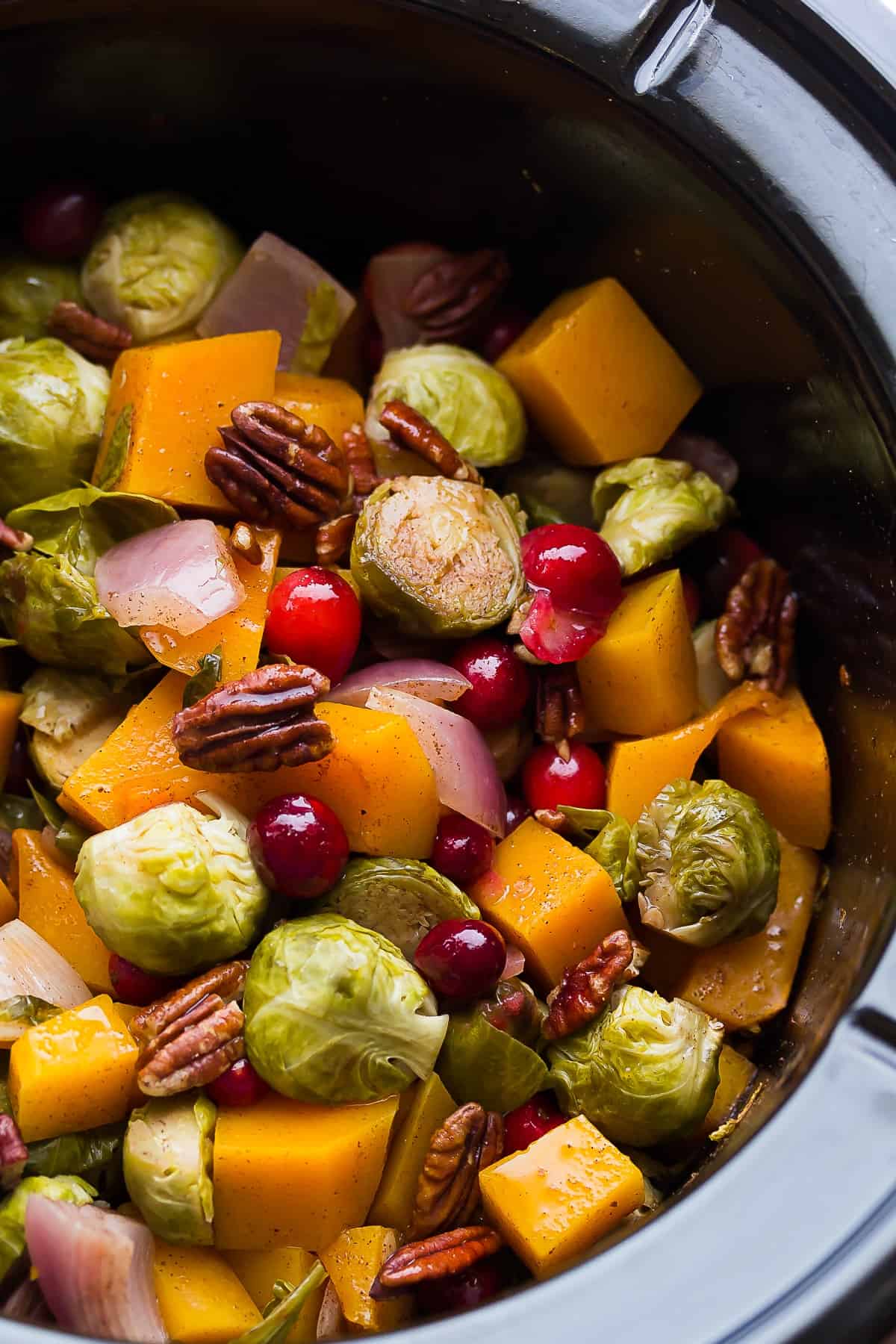 Like my dad's Brussels sprouts, this modernized version is super simple: Brussels sprouts are tossed in a simple 5-ingredient sauce including the cinnamon and nutmeg.  I also added butternut squash and red onions, so that it not only brings back Brussels sprouts to my holiday table, but also happens to be the only side dish that you need for a holiday meal.
You can cook these in the slow cooker or on a sheet pan to maximize your oven space.
Since all slow cookers are different, I would caution you to start checking on these slow cooker Brussels sprouts at around 2 hours.  You want your butternut squash to be tender, but not mushy.  The Brussels sprouts will be softened but not soggy.  You want them to still have some texture to them!
Add the cranberries 5 minutes before serving.  While they cook, whip up a quick maple cinnamon sauce to drizzle over the veggies. Sprinkle with the pecans, and you're ready to serve.
Voila!  A modern holiday side dish full of cinnamon and nutmeg (aka: holiday) flavors, sweet from the maple syrup, tangy from the vinegar, with pops of tart cranberries.  No one is going to be avoiding these Brussels sprouts 😉
Follow along with McCormick on Facebook  Twitter  Instagram  Pinterest
Disclosure: thank you to McCormick for sponsoring this post and helping Brussels sprouts reclaim a spot on my holiday table!  As always, all opinions are my own.
Slow Cooker Brussels Sprouts with Cranberries, Pecans and Butternut
8
adjust servings
Ingredients
4

cups Brussels sprouts, halved (14 oz/400 g)

4

cups butternut squash, cut into 1 inch cubes (21 oz/600 g)

1

red onion, cut into large chunks
Maple Cinnamon Sauce
1/4

cup maple syrup

2

tablespoons apple cider vinegar

1

teaspoon McCormick ground cinnamon

1/4

teaspoon McCormick ground nutmeg

1/2

teaspoon salt
minutes before serving
1

cup fresh cranberries

1/2

cup pecans
Instructions
Toss together the Brussels sprouts, butternut squash and red onion and place in the base of a 5 quart slow cooker.
Cook on high for 2-2.5 hours, stirring once at one hour. Start checking for doneness at 2 hours. Brussels sprouts should be softened but still have some chew to them. Butternut squash should be tender and not mushy.
Just Before Serving:
Add fresh cranberries and cook for 5 additional minutes.
In a small pot, stir together the maple syrup, apple cider vinegar, cinnamon, nutmeg and salt. Bring to a boil, reduce heat and simmer, stirring frequently for 5 minutes. Sauce will reduce and become thickened. Pour over the veggies and toss.
Sprinkle with pecans and serve.
Sheet pan method:
Pre-heat oven to 425°F. Line two large sheet pans with parchment and set aside.
Toss the Brussels sprouts, butternut and red onion with the maple syrup, apple cider vinegar, cinnamon, nutmeg and salt PLUS one tablespoon of olive oil.
Spread over the sheet pans evenly.
Roast for 15 minutes, flip the veggies, and roast for 10 more minutes.
Add the cranberries, and return to the oven for 5 additional minutes.
Sprinkle with pecans and serve.
Recipe Notes
If you aren't going to serve immediately, scoop the veggies out of the crockpot (reserve the liquid). Spoon the cooking liquid over before serving.
Recipe may be halved and cooked in a 2.5 quart crockpot HOWEVER I recommend cooking on the low setting for 2.5-3 hours.