Treat yourself with these cherry chocolate truffle frozen cupcakes!  They are secretly vegan, and under 200 calories per serving.
What' s on your summer bucket list?  I mentioned this last year, but my bucket list is always 99% food…more like a shopping list than a bucket list!
As always, cherries are VERY high on the list…in fact I've come home with a bag of cherries every week this summer.  You've got to enjoy them while they last!
And of course frozen desserts are also completely necessary…and bonus points if there is chocolate involved!  So today I have for us a frozen dessert with cherries in the form of these cherry chocolate truffle frozen cupcakes!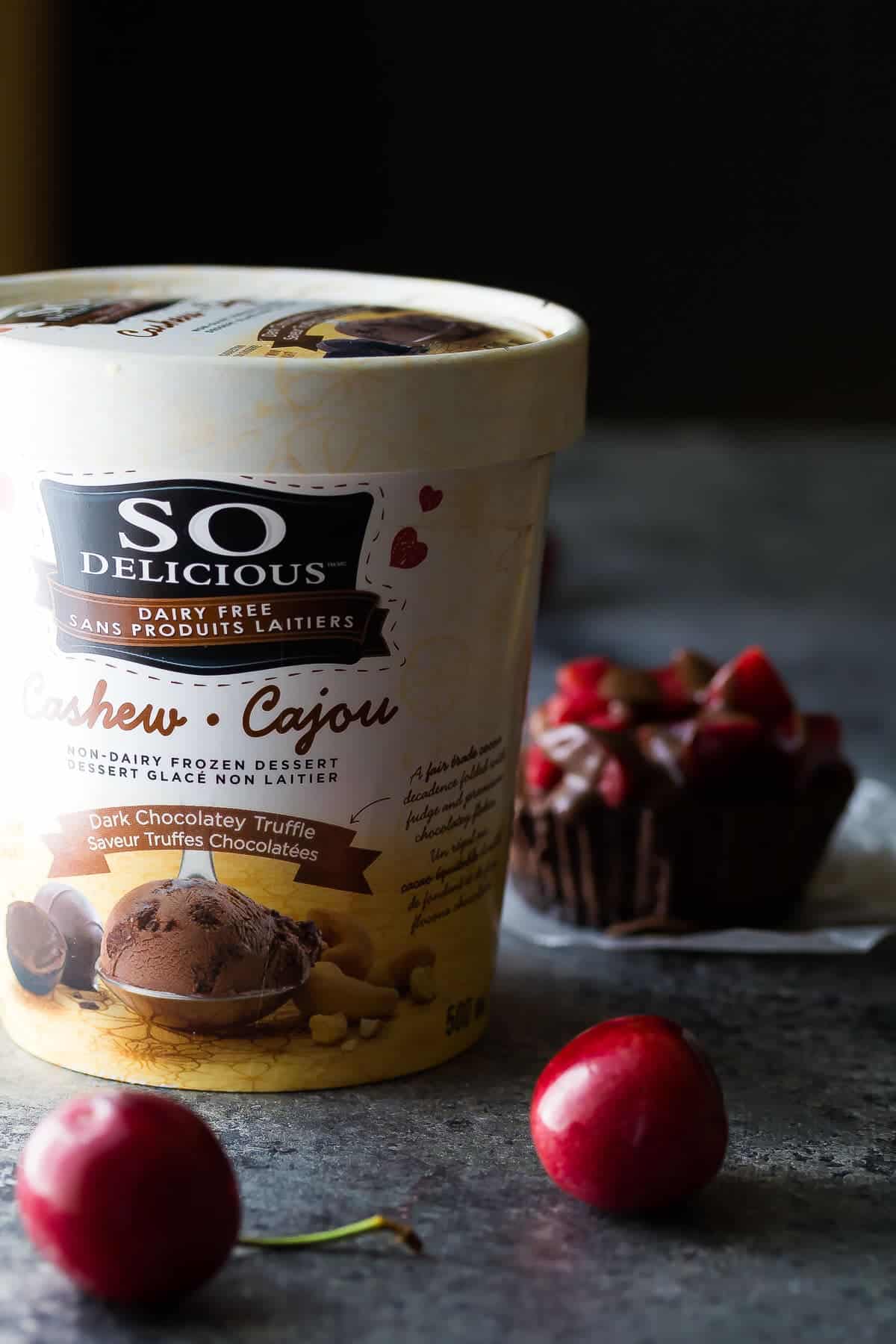 Today's post is sponsored by So Delicious, whose Cashewmilk Frozen Desserts totally blew me out of the water.  Never in a million years would I be able to guess that they are vegan and dairy free!  They taste so rich and creamy.
For this recipe, I chose the Dark Chocolate Truffle Cashewmilk Frozen Dessert, because honestly after I saw the words 'dark chocolate truffle', I could read no further.
And that's when my mind wandered to cherries, because cherries + chocolate are pure heaven as far as I'm concerned.
So here's the deal on these guys: you make a little crust using chocolate cookie crumbs (which are actually vegan, who'd have known?) and coconut oil.  Press into the bottom of a muffin tray.  I suggest lining with either parchment
or silicone liners
to make it super easy to get the frozen cupcakes out.
Next: place a whole cherry on top (remove the pit using this genius idea!)
Pour the (melted) cashewmilk frozen dessert around the cherry (about 1/4 cup per cupcake).
Then freeze.  When you're ready to serve, top with fresh cherries and magic shell, and voila!  Little bites of heaven.
Honestly, these would be delicious with any flavor of So Delicious Cashewmilk Frozen Dessert…check out the other flavors, and where you can find them here!
Disclosure: This is a sponsored conversation written by me on behalf of So Delicious. The opinions and text are all mine.  Thank you for supporting the brands that support Sweet Peas & Saffron!
Cherry Chocolate Truffle Frozen Cupcakes
8
adjust servings
Ingredients
2

tablespoon coconut oil, melted

1/2

cup chocolate cookie crumbs (vegan)

1

pint So Delicious Dairy Free Dark Chocolate Truffle Cashew Non-Dairy Frozen Dessert, melted

8

full cherries, pitted

1

cup fresh cherries, pitted and quartered

magic shell (vegan)
Instructions
Combine the melted coconut oil and chocolate cookie crumbs, stirring until completely combined.
Line a standard-sized muffin tray with muffin liners (silicone and parchment liners work best).
Spoon 1 tablespoon of the cookie crumb mixture into the base of each muffin liner.
Place one full, pitted cherry on top.
Pour ¼ cup of melted cashew non-dairy frozen dessert over and around the cherry (make sure to get it inside the cherry too!
Place the muffin tray in the freezer for 6 hours- overnight.
To serve:
Top with fresh cherries. Drizzle with magic shell.
Recipe Notes
Nutritional Information: 1 cupcake
Calories 192 // Fat 12 g // Saturated Fat 6 g // Cholesterol 0 mg // Sodium 113 mg // Carbohydrate 21 g // Fiber 2 g // Sugars 11 g // Protein 2 g
This is a sponsored conversation written by me on behalf of So Delicious. The opinions and text are all mine.