Sharing the details of our recent trip to Cancun Mexico with two littles! Sharing a Seadust Cancun Family Resort review!
After travelling to Maui in the fall and having an absolute blast, I realized that yes, we can travel with little kids! Is it hard? Yes. Especially the flight. Is it worth it? YES! So much yes. Even if I feel like I need a vacation after the vacation 😉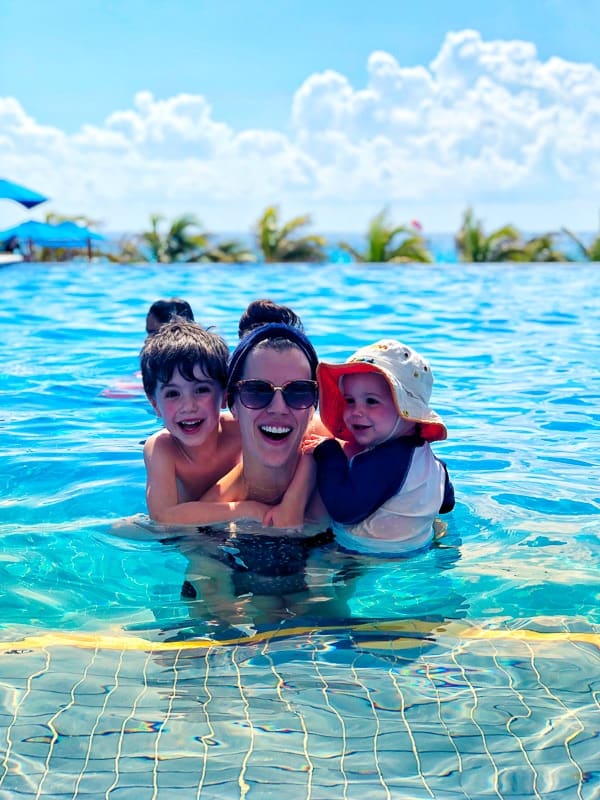 Disclaimer- I paid for this vacation out of my pocket, however some links in this post are affiliate links, meaning I'd get a small commission if you purchased through them. As always, all opinions are my own!
I knew we needed to get out of town for Spring Break this year, and after a brutally cold winter, Mexico started to look pretty darn good!
After browsing the Trip Advisor website, I saw the Seadust Cancun Family Resort and knew it would be perfect for my busy little boys because waterslides. pool. beach. games room. baby room. kids club.
If I've learned one thing from travelling with two little boys, it's that there is no such thing as too many activities for them. And it turns out we picked really well because everyone had an absolute blast!
TIPS FOR FLYING WITH 1.5 YEAR OLDS
These flights were hard with a 1.5 year old. I'm not going to lie. He is BUSY, he is still not entertained by a tablet, and this time around, he didn't easily sleep, which meant a lot of work for us.
bring toys, snacks, a tablet with their favorite song (baby shark, anyone?). Basically anything that might distract them.
be prepared to walk up and down the aisle with them a few times. Walking toddlers hate being confined and letting them out to roam
be prepared to weather some crying (especially if the flight overlaps with nap or bed time). It's harder for 1.5 year olds to get comfy on the plane
remember the big picture: beaches, sunsets, family memories. It's going to be worth it!
Kai (our 5 year old) was such a good traveller this time! He has come leaps and bounds since we first started travelling with him. He is happy to watch the tablet and to lay down when he feels tired. I know Zeph will get there with time and practice.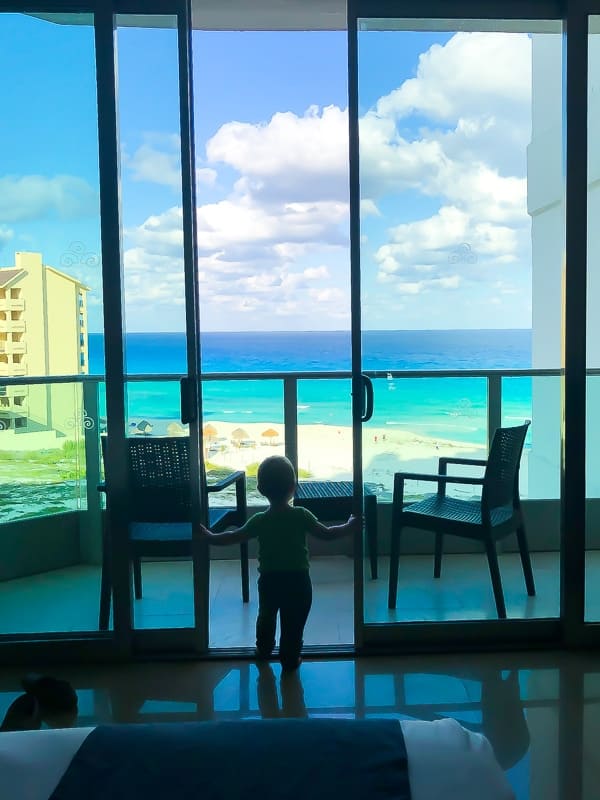 Seadust Cancun Family Resort
I picked the Seadust Cancun Family Resort for one reason alone: all the activities for kids! It turned out to be a great pick, because the resort was full of families with young kids and tons of fun things to do.
We stayed in a family room, which had a king sized bed for Ben & I, bunk beds (which Kai was thrilled about!), and they put a play pen in the room for Zeph. I loved that it had a little nook for the kids, so when naps/bed was happening we weren't tip toeing around as much.
We had what was called a 'partial' ocean view, but look at it! We were pretty happy with that view.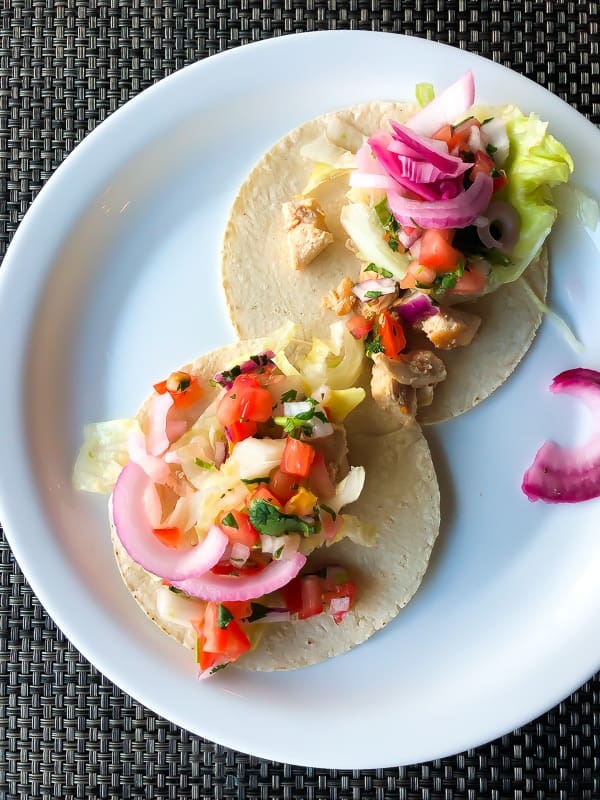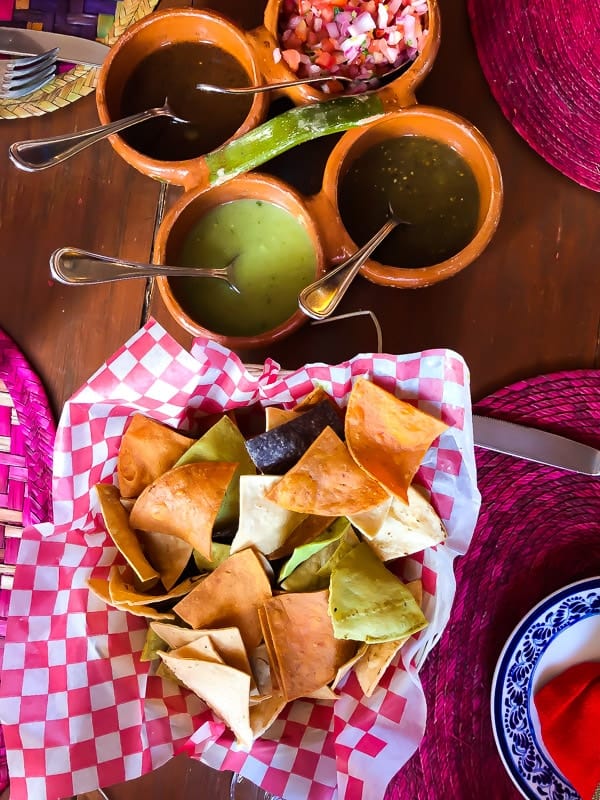 What we ate
The Seadust Cancun Resort has a ton of options for food, but in my opinion, the food here is not the reason you stay at this hotel 😉
Buffet
Most of the time, we ate at the buffet, which had a huge selection. It was easy enough to find food that everyone in our family would eat. I highly recommend the Mexican food section, as it was the best by far for me!
Unfortunately by the end of our trip, I was getting pretty sick of the buffet. There are *some* healthier options, but there is also a lot of fried foods, a candy bar, desserts etc, and I definitely wasn't making the best choices all the time :S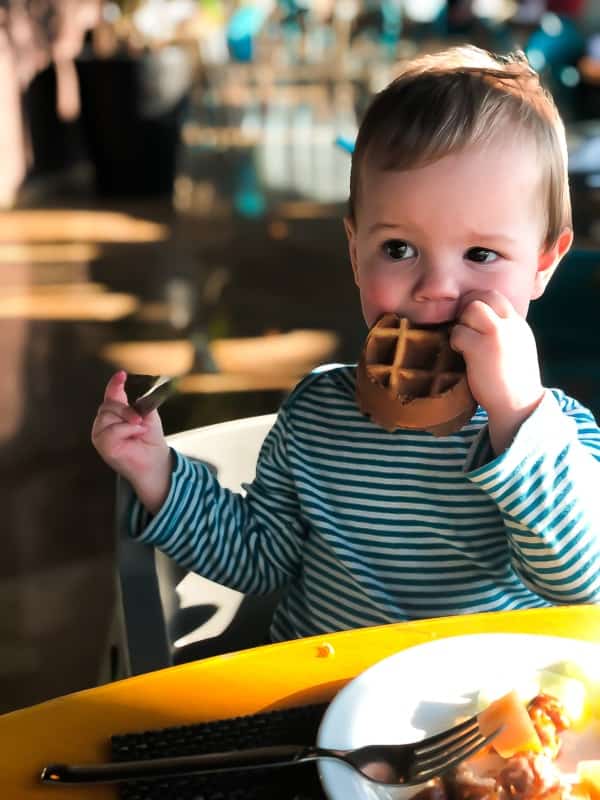 Restaurants
The Seadust Family Resort has a number of restaurants as well, but since our kids are not 'restaurant kids', eating out with them was stressful, which is why we ate at the buffet most of the time.
The other issue we had was the selection of foods was often not healthy at all, so we did try to limit our meals at the other restaurants.
Waves- is the poolside restaurant which serves pizza, french fries, chicken wings, etc. And margaritas!
La Creperie- if you need a donut or churro in the afternoon (or at 9 pm after your kids are asleep!)
Carousel- near the waterslides and kids area. Serves chicken nuggets and french fries.
Dinner Restaurants- we did try the Mexican Restaurant (El Maguay) and the Lighthouse Restaurant. The food was best at the Mexican restaurant!
Tips for eating at Seadust Resort
bring your own reusable straws for margaritas, as Seadust does not provide straws
bring your own reusable water bottles, there are refill stations on each floor
many people had insulated mugs for the pool/beach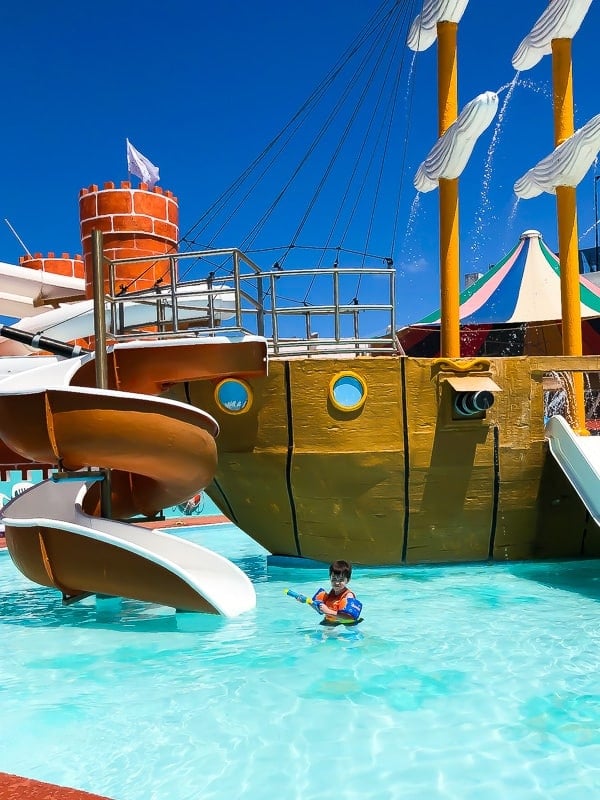 What we did
Waterslides
The main draw for this resort is the waterslides! Here's a photo of Kai outside the pirate ship waterslide. He was too nervous to go on the slides (he didn't want to get his hair wet), but most kids were having an absolute blast.
Ben had fun going down the castle water slides that you can see on the other side of the wall.
Baby area
There is a warm baby pool that Zephie splashed around in a bit, and there is also a baby play area with a play structure that Z had a blast climbing on and running around.
Kids club
Kai loved the kids club and begged us to drop him off there! They will watch your kids for up to 3 hours at a time and will even take them for dinner at the buffet. Kai wanted to go for dinner with Kids Club because he got whatever he wanted for dinner (LOL).
After 3 hours, you can check on your kids and they can stay longer if they want. We let Kai stay till 9pm the last two nights because he was having so much fun.
Baby club
They also have a baby club where they'll watch your 18 month + kids for up to 2 hours (I think?).
Z was not a fan, but turns out he was fighting off an infection so he was extra fussy those days.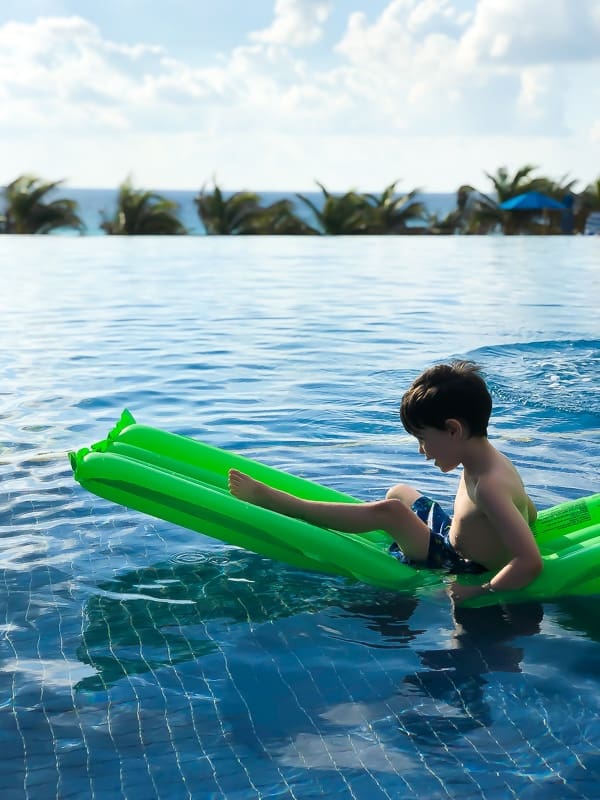 Pool
Towards the beach side of the resort is a beautiful infinity pool with three levels. It was great when the sun was out but a little cold on days when the sun was hiding.
Tip
stake your claim on a poolside chair before you go for breakfast by leaving a towel on your chair!
My favorite memories of the whole trip were in the pool. It was great for the kids and a fun place to be. Super convenient having the pool restaurant right there if anyone gets hungry and we don't want to get fully dressed for the buffet.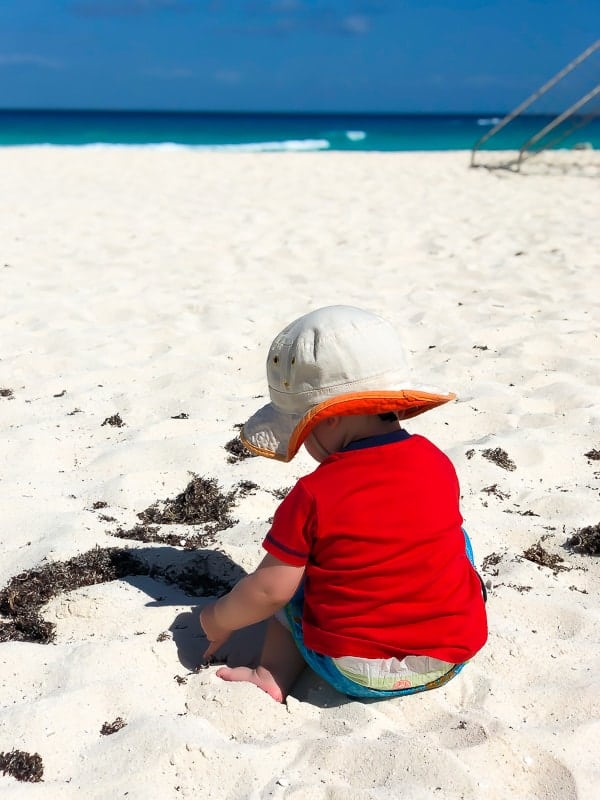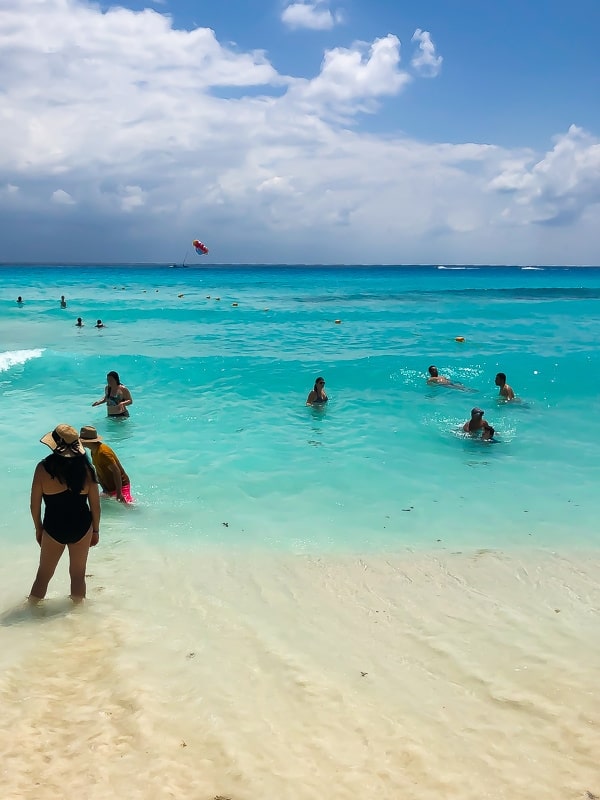 Beach
The water in Cancun is absolutely unreal...I've never seen so many shades of blue! It's also so pleasantly warm and the waves were fun to play in.
The beach was a fun place to hang out but is still a bit much for the baby. So much sand, and the sun was pretty intense for him...so we only really spent one day at the beach, and the rest were at the pool.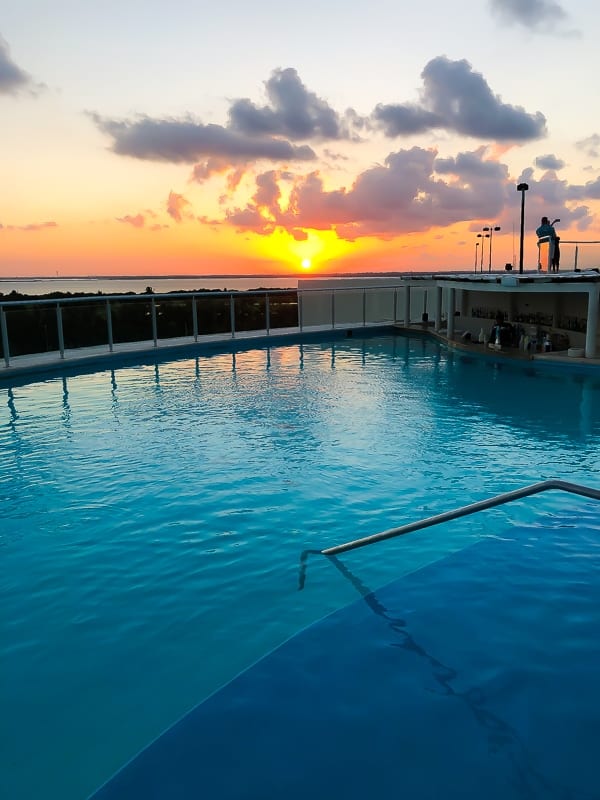 So. That is about it for our family holiday!
We didn't even leave the resort, and it was perfect. Honestly, with a 1.5 year old, you are somewhat limited. I can see how much fun it is going to be when he's a bit older!
My advice? Travel with your kids. It is hard, but each time we travel, it gets a bit easier.
my kids get more adaptable
they learn new things
we learn new tricks that make the next trip easier
What I learned on this trip
pay the extra money to book your seats together on the flight- both times, we were not seated together and it added stress to the trip for sure.
arrange time for yourself each day- Ben gave me an hour to do what I wanted and I did the same for him. You NEED a break when travelling with littles.
bring money with you- we totally forgot to bring any US cash with us and were without tip money for a few days. Definitely would arrange this beforehand next time!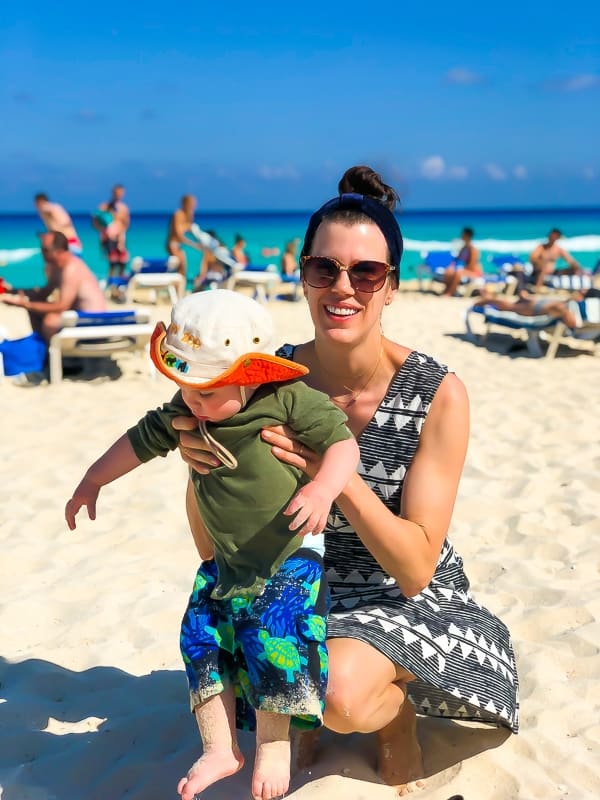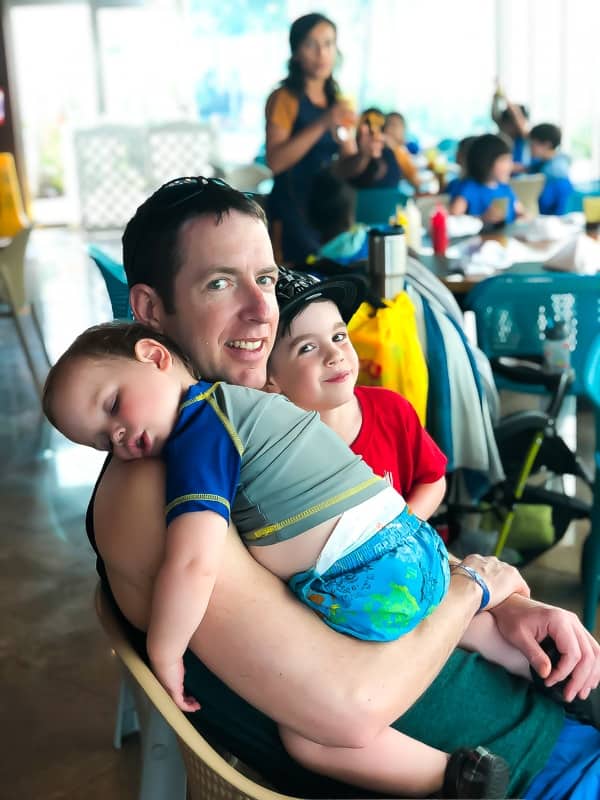 Seadust Cancun Family Resort Review
That's our trip in a nutshell! Do I recommend the Seadust Cancun Family Resort? YES. Particularly if you have young kids.
Let me know if you have any questions!
XO