What's included in this eCookbook?
100+ healthy meal prep recipes from the blog Sweet Peas & Saffron
8 eBooks with vegan, low carb, freezer, slow cooker and Instant Pot options
6 Week Meal Prep Plan for breakfast, lunch and 3 dinners with printable shopping lists
5 Freezer Stock Up Sessions for lunches + dinners with prep plan and printable shopping lists
full nutritional information and photograph for each recipe easy, concise instructions to prepare, store and reheat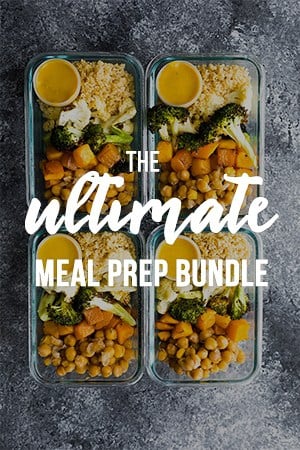 What's Included In This eCookbook?
Full directions to prepare, store and reheat your meals
Tried & true recipes that still taste great after storing
11 meal prep plans with printable shopping lists
Click here to buy
What's Inside
Recipes Include
8 eCookbooks with vegan, low carb, freezer, slow cooker and Instant Pot options.
Customer Reviews
Foolproof!
This bundle, especially for anyone new to meal prep or looking to get back on track, is foolproof!
My Go-To Source for Recipes
The meal prep bundle has become my go to source for meal planning ideas. I love all the recipes I have tried. They are easy to prepare and delicious to eat.
Easy to Follow
If you are looking for an easy to follow recipe with clear instructions and easy to find ingredients then this meal prep bundle is for you.
Great Variety!
I LOVE the Meal Prep Bundle. So helpful in planning my meals. I love the variety of recipes Denise has created.
The Fine Print
e-Cookbook? How does that work?
This is a digital cookbook, meaning it is in PDF format and viewable on your computer, tablet or smartphone. It can also be printed on your home printer if need be.
Return Policy
I want you to love this cookbook. If you are not completely satisfied with your purchase, you have up to 7 days to request a refund.
Payment Options
You can use a credit card, PayPal or Google Pay.