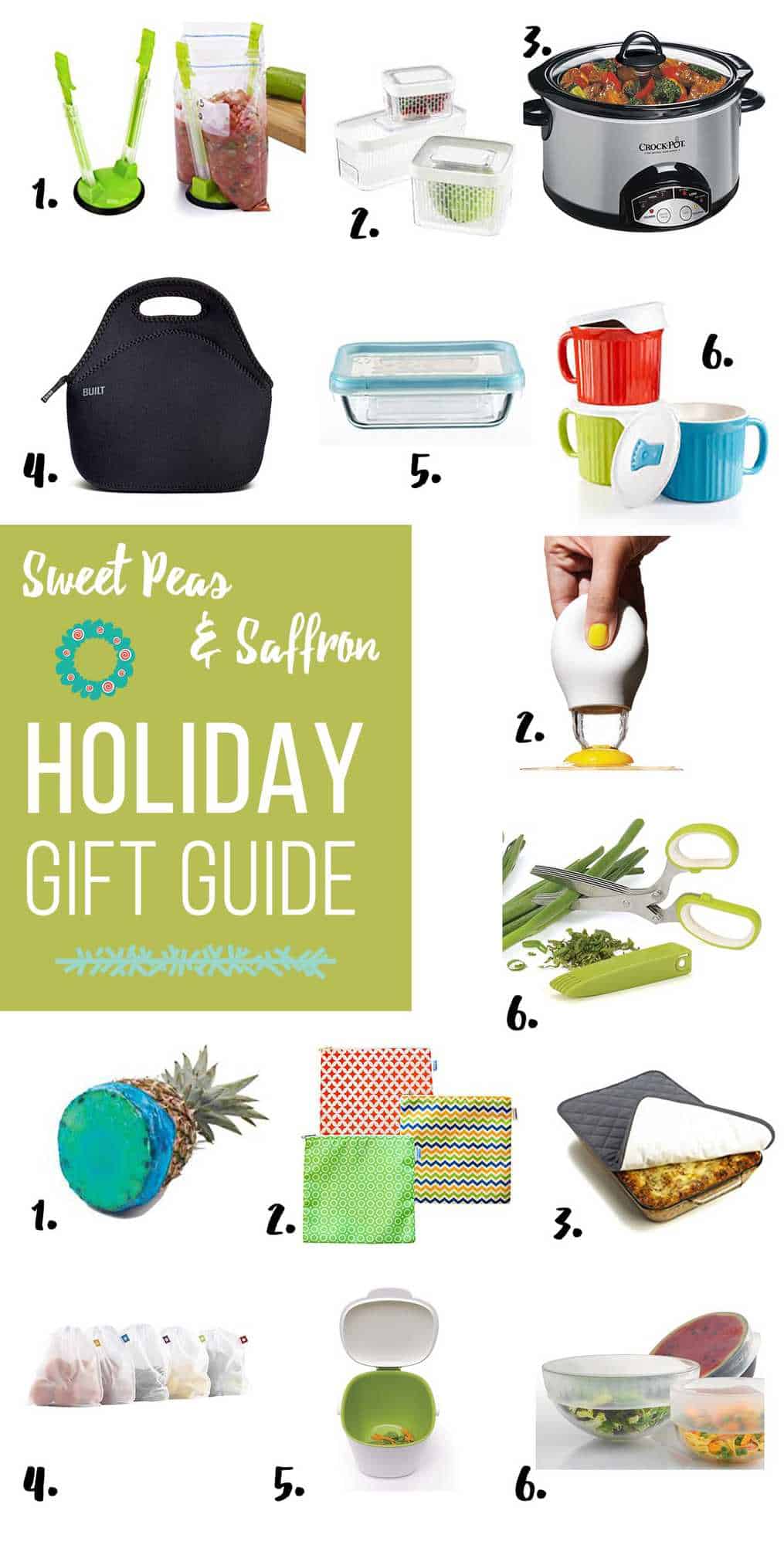 Hey guys!  Can you believe it's already December?  I swear, it was JUST September!
The holidays always sneak up on me, and I am a major procrastinator when it comes to gifts.  So I thought this year I'd try to get a head start on my shopping and come up with some fun kitchen gift ideas to share with you.
Whether you are looking for smaller stocking stuffers, something to get your foot in the door with meal prepping, or looking for more basic kitchen tools, I have a whole bunch of fun kitchen gift ideas for you!  And, because my goal for 2017 is to be more environmentally friendly in the kitchen, I've also included some amazing eco-friendly gift ideas.
Let's check them out!
This post contains affiliate links, meaning I get a very small commission if you click through.  All opinions are my own, and I am so excited to share the products I love with you!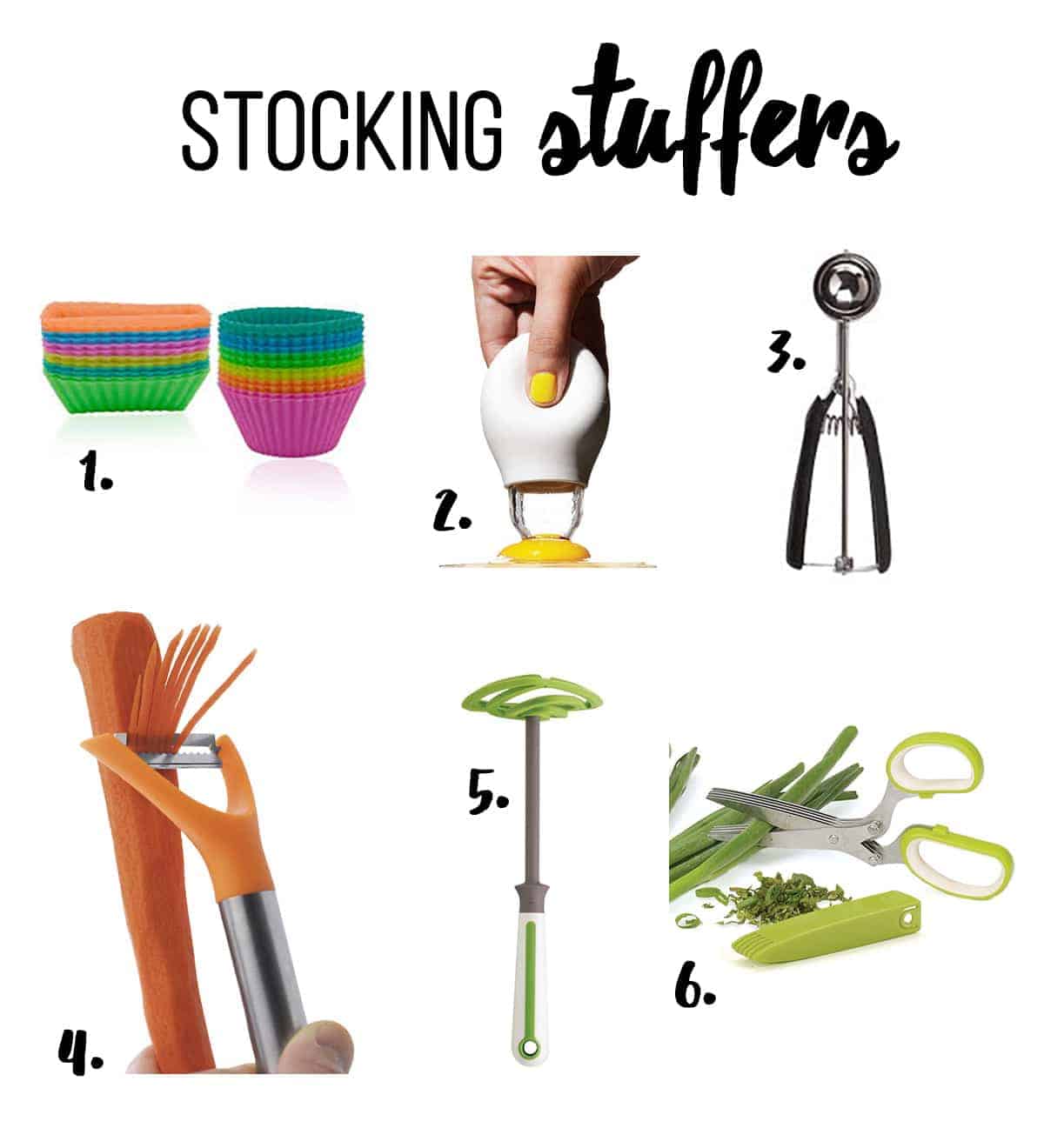 Kitchen Gift Stocking Stuffer Ideas
1.Silicone Muffin Liners
– I use these for my egg muffins or any muffin that doesn't contain oil.  Nothing sticks to these guys, and they are re-usable, which means one less thing going in the garbage.
2. Egg Yolk Extractor
– HOW COOL is this?!  I don't own this but definitely have my eye on it, as I'm notoriously bad at separating egg whites.
3. Cookie Scoop
– I use this cookie scoop multiple times per week…it's great for getting uniformly shaped meatballs, cookies, you name it.  This is one of those kitchen tools I thought I didn't need, but ended up loving.
4. Julienne Peeler
– I have a full-sized spiralizer (see below), but if you are looking to dip your toe in the 'veggie noodles' arena, this looks like a great, affordable way!
5. Potato Masher
– this is the world's most ridiculous looking, but most effective potato masher.  Put it in someone's stocking and make them guess what it is!  They probably won't get it right.
6. Herb Scissors
– I own these and they are great for cutting fresh herbs really quickly.  And let's face it– they're fun!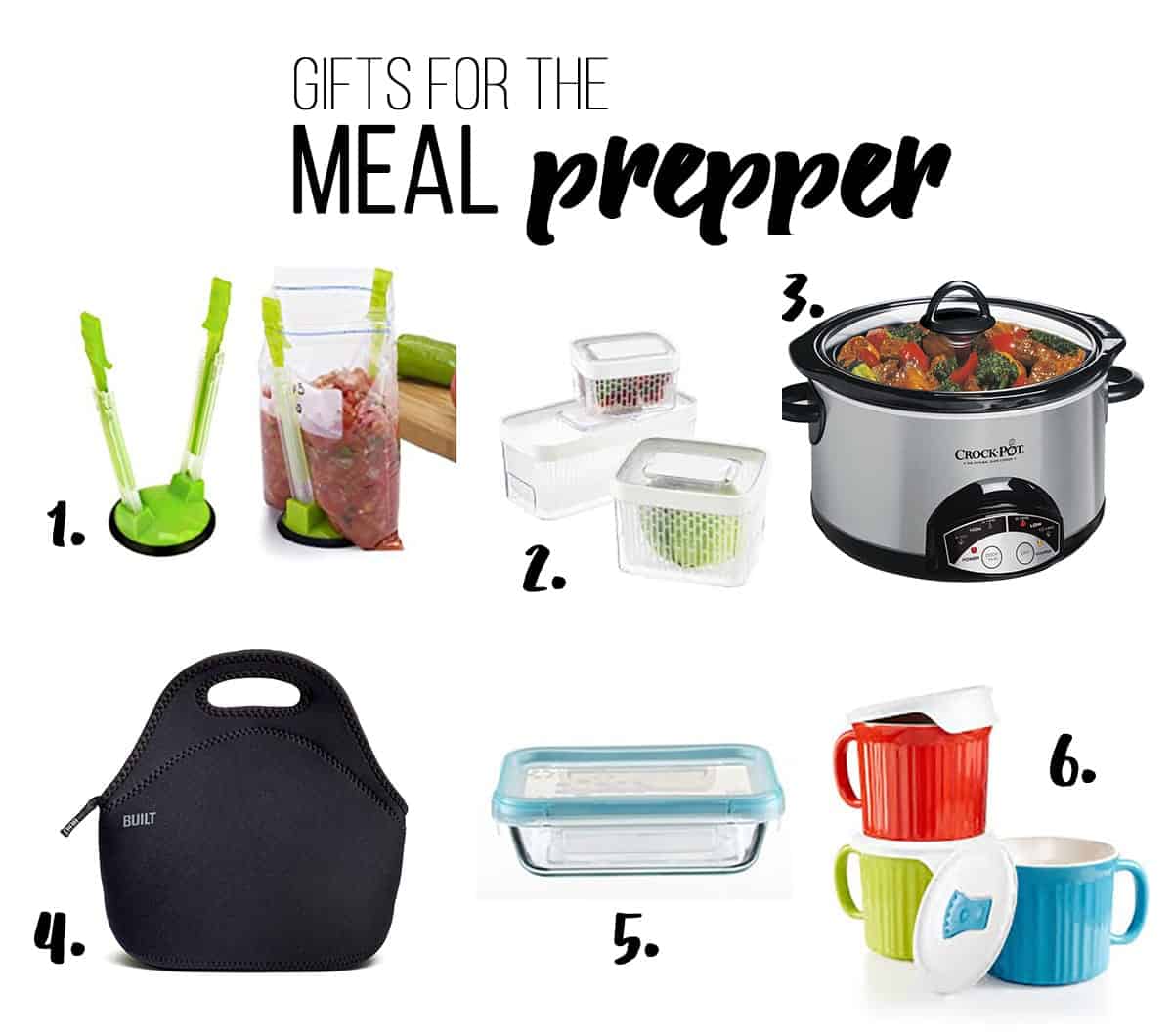 Kitchen Gifts For The Meal Prepper
1. Jokari Hands-Free Baggy Holder
– I have my eye on this!  These little baggy holders hold your bags open so you can use both your hands to pour into the bags.  They look awesome!
2. OXO Good Grips Produce Keeper
– Another product I have my eye on.  These produce keepers keep your veggies fresh for longer!
3. 5 Quart Crock Pot
– This is my very basic slow cooker.  The 5 quart is big enough for all of my recipes, but I also use a 2.5 quart for smaller batches.
4.BUILT Lunch Tote
– I have my eye on this lunch bag as a stylish but functional way to store your lunch!
5.Snapware 2-Cup Glass Storage Container
– I love these!!  The lids snap on perfectly (I've had issues with the plastic warping on other brands).  The 2 cup size is perfect for lunches, and I also have a larger 6 cup one that I love.
6. CorningWare Mug, 20 oz– These are so great for lunches.  I love putting individual portions of soup in here.  They are also great for DIY Instant Noodles!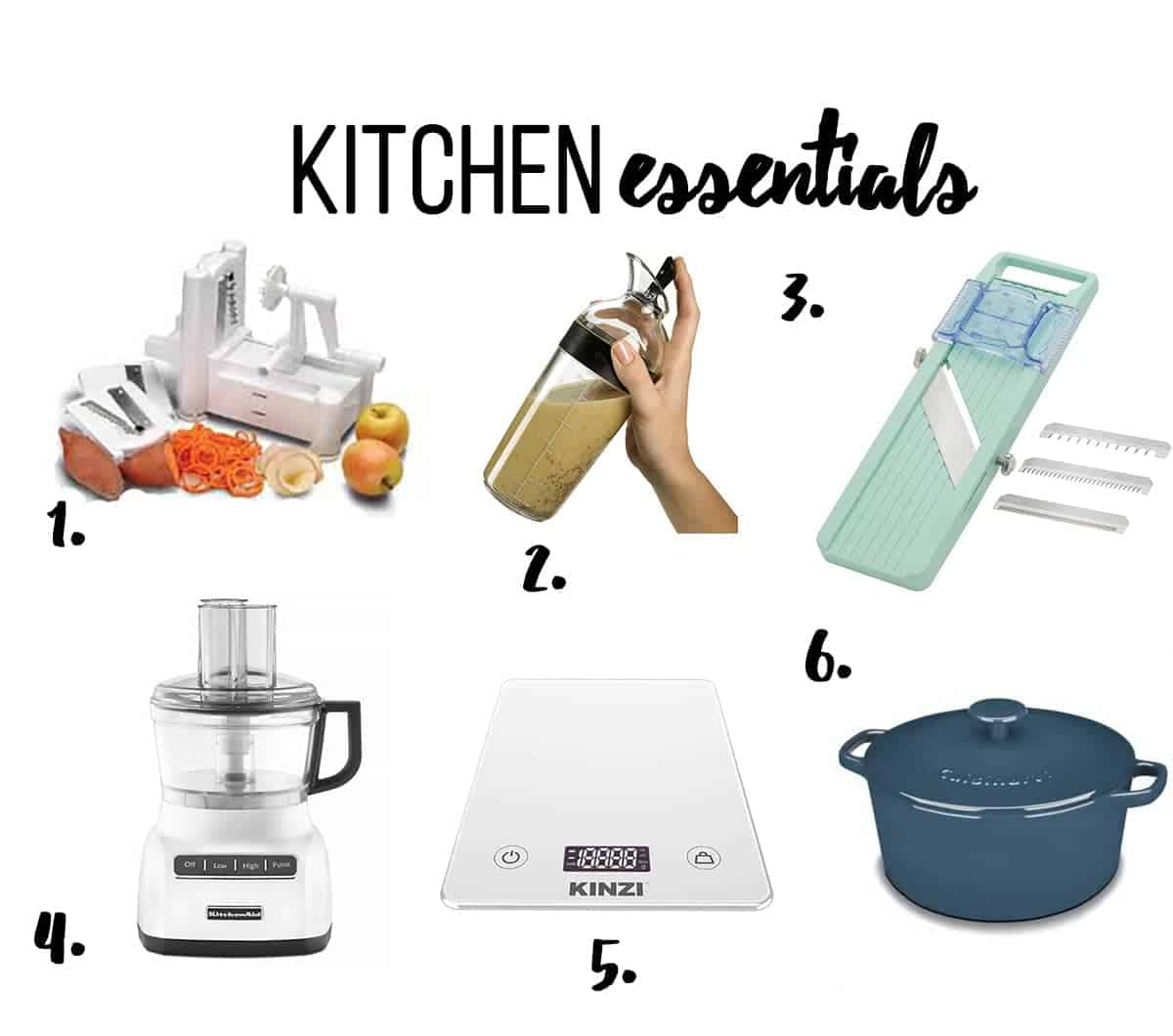 Kitchen Essentials
1.  Paderno Tri-Blade Spiralizer
– I was honestly on the fence about buying a spiralizer, and now I can't remember why!  They are so great for adding new textures and more veggies to your meals.  Highly recommend this model, which is easy to use and easy to clean.
2. OXO Good Grips Salad Dressing Shaker
– I use this on a weekly (if not daily) basis.  So great, and durable.  I've had mine for over a year and it still seals great (and I wash it in the dishwasher).
3. Mandolin Slicer
– This is perfect for getting evenly sliced veggies.  I use it for these Herb & Garlic Potato Stacks, veggie chips and more!
4. KitchenAid 7 Cup Food Processor
– This is a great no bells and whistles food processor.  It does exactly what you need it to do and doesn't have a million attachments to store.
5. Kinzi Digital Kitchen Scale
– I can't bake without my scale.  Why measure cups of flour when you can just weigh your bowl?  Also great for butter, which doesn't come in sticks here in Canada.
6. Cuisinart Enameled Cast Iron 5-Quart Covered Casserole
– This is my go-to pot for soups and stews.  MUCH cheaper than Le Creuset, but just as stylish.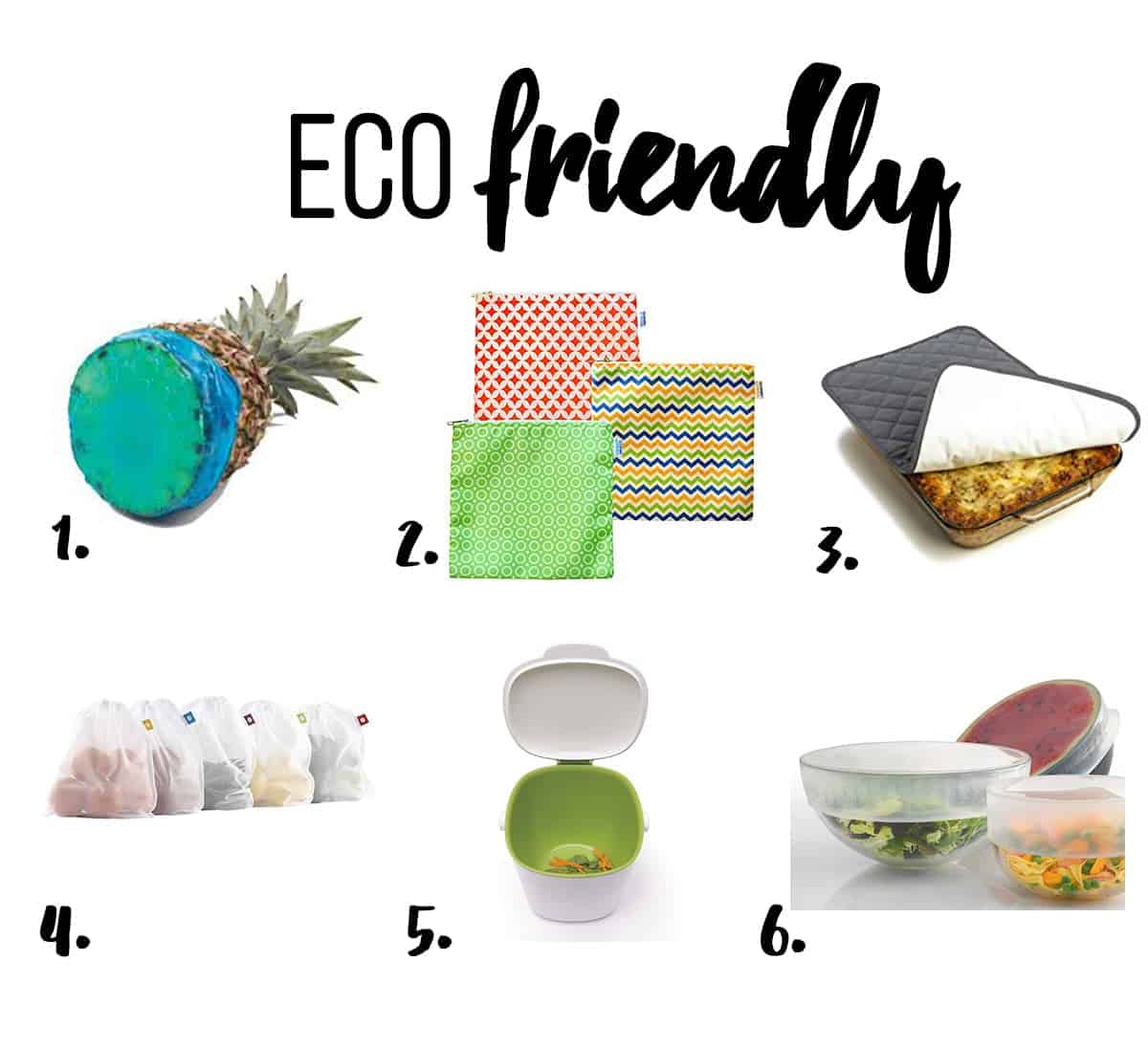 Eco-Friendly Kitchen Gift Ideas
Note- I don't own any of these products but plan to buy some to reduce my kitchen waste.
1. Fusionbrands Reusable Stretchable Food Cover
– These are so cool!  Ditch the plastic wrap and use these food covers on your veggie odds & ends.
2. Cloth Sandwich Bags – Yummi Pouch
– Ditch the plastic sandwich bags for these cute reusable sandwich bags.  Just throw them in the washing machine when you need to clean them.
3. Chef's Oven Thermal Food Cover
– This baby keeps your food warm…no need for aluminum foil!
4. Set of 5 Reusable Produce Bags
– I hate how many plastic bags I use at the grocery store.  Even though I already bring my own containers, I'm planning on adding some produce bags to save on the extra produce bags I use.
5. OXO Good Grips Compost Bin
– We are so lucky to be in the city's green bin pilot program, meaning that we can send a LOT of our kitchen scraps to a city composting center.  Even if you don't have a program like this, you can still compost.  Here's a guide to getting started.
6. Reusable Silicone Seal Cover
– These handy silicone seal covers eliminate the need for plastic wrap.  Slip them right over your bowls, plates, etc.
I hope this post has given you some useful holiday kitchen gift ideas!