These jerk chicken and grilled vegetable quinoa bowls are packed with Jamaican flavors and tossed in a delicious jerk dressing.  And guess what?  No oven required, and minimal dishes to wash!
Disclosure: I was compensated for this post by Grace Foods Canada, but all opinions are my own.  Thanks for supporting the brands that keep this blog going!
This month, the weather has been totally predictable: warm, sunny, gorgeous from Monday to Friday.  Saturday and Sunday: Cold.  Rainy.  Snowy.  I wish I was even joking about that last one.
It's like Mother Nature is teasing us!
Little does Mother Nature know, there is nothing that really keeps us from barbecuing…we (OK, Ben) are out there all year round, rain, snow, hail, hurricanes, grilling our little hearts out.  Of course it is far more pleasant in the warmer weather.
Plus doesn't it just feel like summer (even if it is cold out), when you are out there grilling?  The smells, the sounds, it's just all things summer to me!
I'm excited have the opportunity to use Grace products for this post!  They sent over a box crammed with products…I didn't even know so many Jamaican jerk products existed!  There was the Jerk Seasoning, the Jerk Barbecue Sauce, the Scotch Bonnet Hot Pepper Sauce,  the Jerk Dipping Sauce and the Jerk Marinade.
Needless to say, it has been a very tropical Jamaican kind of month at my house!
I settled on the Jerk Marinade because it is just SO easy to use, and the flavours it brings to this dish is totally delicious!  In case you're not familiar with Jamaican jerk flavours, let's get you acquainted: scallions, scotch bonnet peppers, thyme, allspice, and more!  Delicious, exotic, and a touch of heat.  Absolutely perfect on meat of all types, and pairs just perfectly with tropical fruit.
For this recipe I used the jerk marinade in two ways: on the chicken (marinated, and then brushed with it at the end of grilling), and also in a dressing for the quinoa bowls.  Ben says it's the best salad dressing I've ever made…I'll take that compliment, although I'm pretty sure it was entirely due to the jerk marinade!
These quinoa bowls are such a light, fresh, delicious summer dinner.  Lime quinoa, grilled sweet potato and zucchini, jerk chicken, fresh mango.  All tossed in a super delicious Jamaican jerk salad dressing!  It is ridiculously easy to prepare, creates very few dishes, and is totally worthy of a week-night dinner.
I marinated my chicken for 2 hours, however if you can get your chicken into the marinade before work, you've made your job at the end of the day a bit easier.
Bonus: the left-overs make for one seriously delicious lunch the next day!
So what do you think?  Jerk Chicken and Grilled Vegetable Quinoa Bowls for the win?
You May Also Like: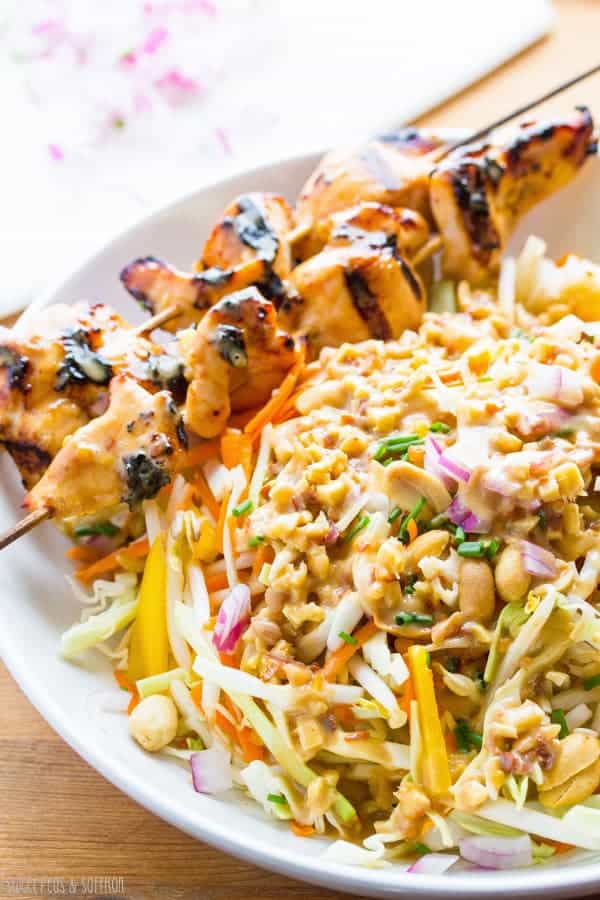 Chicken Satay Salad
Slow Cooker Beer Chicken Taco Salad with Cilantro Vinaigrette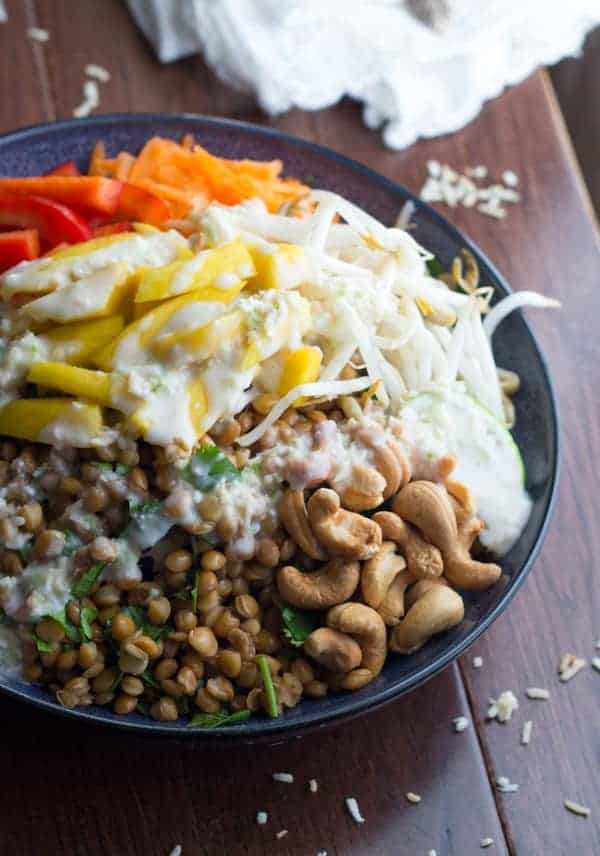 Tropical Lentil Lunch Bowls with Coconut-Lime Dressing
JERK CHICKEN AND GRILLED VEGETABLE QUINOA BOWLS
4
adjust servings
Ingredients
1

cup quinoa

zest of 1 lime

2

large chicken breasts

1/2

cup Grace Jerk Marinade (plus additional 1/4 cup for brushing on after grilling)

1

sweet potato, sliced into 1/4 inch thick rounds

1

large zucchini, sliced into 1/2 inch thick rounds

1

tablespoon olive oil

1

tablespoon lime juice

salt and pepper

1

mango, sliced

1/4

cup cilantro leaves, torn
Jamaican Jerk Vinaigrette
1/4

cup olive oil

1/4

cup white wine vinegar

2

tablespoons sugar

2

teaspoons Grace Jerk Marinade

1

teaspoon Dijon
Instructions
Quinoa
Stir together the quinoa and lime zest. Cook according to package directions and allow to cool.
Jerk Chicken
In a small dish, combine the chicken breasts and Grace Jerk Marinade. Cover and refrigerate for 2-12 hours.
Pre-heat barbecue on medium-high. Remove chicken from marinade (discarding marinade), and grill for 25 minutes (12 minutes per side), or until cooked through.
Remove from grill, and brush chicken with the remaining ¼ cup of marinade.
Slice into strips.
Grilled Vegetables
Toss sweet potatoes with olive oil and lime juice, and sprinkle with salt and pepper to taste.
Grill (at the same time as the chicken), turning frequently and being careful not to burn.
Repeat with the zucchini, cooking for 10 minutes (5 minutes per side).
Salad:
Toss together the cooked and cooled quinoa, jerk chicken, grilled vegetables, with the mango and cilantro leaves.
Shake together all vinaigrette ingredients, and toss the salad to coat.
Serve immediately.