This Easy Key Lime Cake with a Graham Crumb Swirl is an fun and delicious take on key lime pie!
Previously on Sweet Peas & Saffron: key lime.
There were cupcakes…and macaroons…and sandwich cookies.
Then there was white chocolate, and cream cheese, and even pistachios.
And now that you're all caught up, here is key lime in its latest incarnation: easy key lime cake.  With crinkly key lime glaze.  And a graham cracker crumb 'swirl'.
I guess it's no surprise that key limes are back on the menu….I am totally and unapologetically a huge key lime addict, especially when graham crackers are involved in one way or another.
There's just something about that combination of light citrussy key lime with the deeper cinnamon and honey flavors of the graham crackers…I'm bonkers for it!
I haven't made cake since…November.  Gosh, is that a travesty or what?
Since the cake eaters of the household is really just Ben and I, and Ben doesn't have much of a sweet tooth, cakes are just not all that practical for us.  But loaf cakes…they're just the right size for us to each have a couple of slices while it's still fresh.
This was going to be a simple key lime yogurt cake, but I just can't leave well enough alone, and this thing was just crying out for graham cracker crumbs.  I had to listen.
So I added a graham cracker 'swirl', although it's more like a layer, isn't it?  This is what I ended up with after 4 batches of no swirl, not enough swirl, too much batter (cake bubbling over and setting of the smoke alarm), and finally, this: just enough swirl.  But the cake sank in the middle.   I just don't care…do you care?  It tasted too good not to share with you!
So, yes.  Easy Key Lime Cake with Graham Crumb Swirl…super easy to throw together, and all those delicious key lime pie flavors!
Stay tuned for more episodes of Sweet Peas & Saffron.
Coming up next: Lemon Meringue Pie rides back into town and the real drama begins!
You may also like:
Key Lime and White Chocolate Coconut Macaroons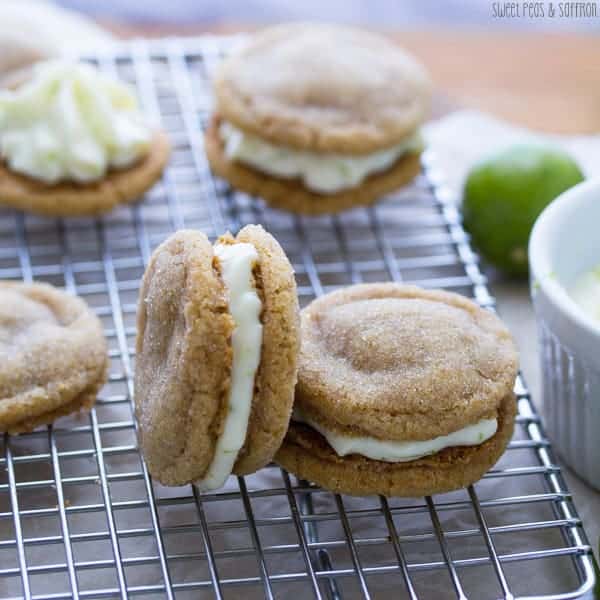 Key Lime Pie Sandwich Cookies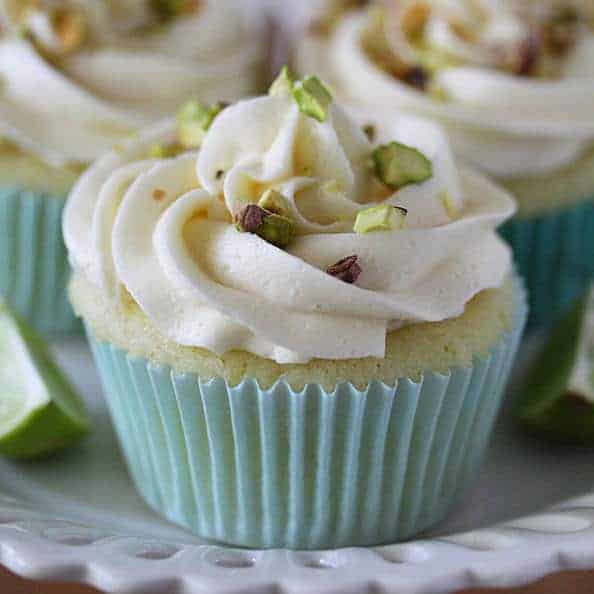 Key Lime Cupcakes with White Chocolate Frosting and Salted Pistachios
Glazed Key Lime Cake with a Graham Crumb Swirl
6
adjust servings
This Glazed Key Lime Cake with a Graham Crumb Swirl is an easy and delicious key lime pie remix!
Ingredients
Key Lime Yogurt Cake
1

cup all purpose flour (125g)

1 1/2

teaspoons baking powder

1/4

teaspoon salt

2/3

cup yogurt (plain, whole milk)

2/3

cup granulated sugar

2

large eggs

3

key limes, zested (roughly 1 tablespoon of loosely packed zest)

2

key limes, juiced (roughly 2 tablespoons)

1/2

teaspoon vanilla

1/3

cup vegetable oil
graham crumb swirl
1/2

cup graham cracker crumbs

1/4

cup brown sugar
Key Lime Glaze
1

cup powdered sugar

juice of 2 key limes

zest of 1 key lime

1 1/2

tablespoons milk
Instructions
Key Lime Yogurt Cake
Pre-heat oven to 350°F. Grease and flour an 8X4 inch loaf pan. Cut a piece of parchment paper to fit the bottom of the pan, and set aside.
In a medium bowl, combine the flour, baking powder, and salt.
In a separate large bowl, stir together the yogurt and sugar, until sugar is completely dissolved.
Stir in the eggs, key lime zest and juice, and the vanilla extract.
Add the dry ingredients into the wet ingredients, and stir until completely incorporated.
Add the vegetable oil, and stir until just combined.
Pour ½ of the cake batter into the prepared loaf pan.
Mix together the graham crumb swirl, and sprinkle evenly over the cake batter.
Top with remaining batter.
Bake for 40-50 minutes, until center is set and a toothpick comes out clean.
Allow to cool completely in the pan before glazing.
The cake can be stored in a sealed container for 2-3 days, but is best served the same day as it is baked.
Recipe adapted from Ina Garten
Products used in this recipe: