These Maple Lemongrass Chipotle Shrimp Tacos are a fresh and delicious twist for your next taco night!  Not to mention that they are ready in 30 minutes!
You guys…I threw shrimp on the barbie!
OK…back-up a minute here.  I went to Australia back in 2006 to finish my degree on exchange.  I arrived with a suitcase filled with tank tops and flip flops, and my head filled with the phrases "let's throw another shrimp on the barbie", and "a dingo ate my baby".  I just knew I was going to fit in!
It wasn't more than a couple of days before I realized that Aussies, in fact, do NOT throw shrimp on the barbie.  In fact, they don't even call them shrimp…they call them prawns.  And they're more likely to throw a snag (aka: sausage) on the barbie.
And saying the words "let's throw another shrimp on the barbie" was not really met with laughter, but a defensive lecture in Australian barbecuing customs.  So guys:  you heard it here first.  No shrimps on barbies.  Until now, for these chipotle shrimp tacos!
I was inspired to throw said shrimp on the barbie by the delicious Chipotle and Lemongrass Infused Maple Syrup from Pure Infused, a Canadian company that takes maple syrup to a whole new level…a level that does not necessarily involve breakfast!
They sent over a bunch of delicious maple syrup flavours including Vanilla, Cinnamon & Star Anise, Lavender & Chai, Cinnamon, Nutmeg & Cloves and Gastrique, with Apple Cider Vinegar & Ginger.  But there was just something about that bottle of Chipotle and Lemongrass maple syrup that was calling my name.
The predominant flavour is chipotle, with a subtle lemongrass undertone and slight sweetness from the maple syrup.  There was no doubt that it was going on shrimp.  My all-time favourite salmon recipe uses maple syrup, and I just knew it would be delicious on shrimp, too!
I decided to also include the Chipotle and Lemongrass Infused Maple Syrup into a vinaigrette that I tossed with the fresh taco fillings.  It adds the subtle flavours of chipotle and maple to the crunchy cabbage, carrots and radishes.
I absolutely love how these chipotle shrimp tacos turned out: fresh, crunchy, slightly sweet, smoky, all-round delicious.  And the best part: they are ready in 30 minutes!  So simple, and so easy to prepare a delicious, healthy and fresh dinner.
You'd better believe that Ben (my Aussie fiance) heard a whole lot of: "Ohhhh-kaaaay!  I'm going to throw some shrimp on the barbie!"  He gets to listen to my reeeeally bad Aussie accent all.  the.  time.  And he puts up with it because he gets to be my official taste-tester.
There were no complaints whatsoever from him on this one!
You may also like: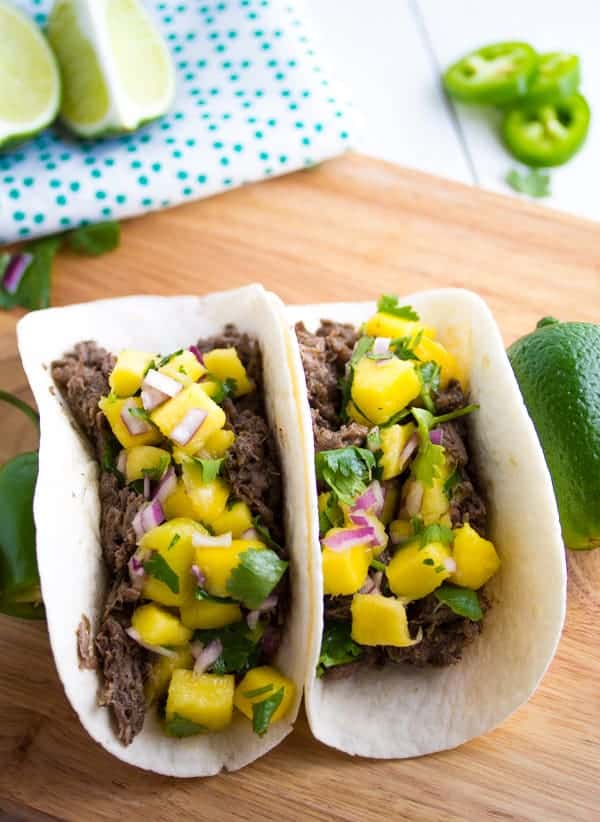 Slow Cooker Jerk Beef Tacos with Mango Salsa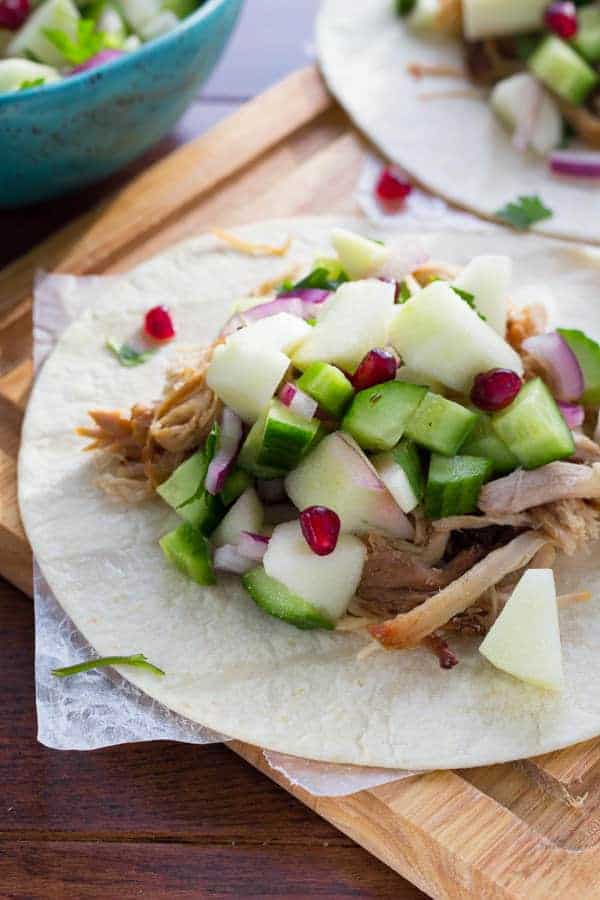 Slow Cooker Cider Carnitas with Green Apple Salsa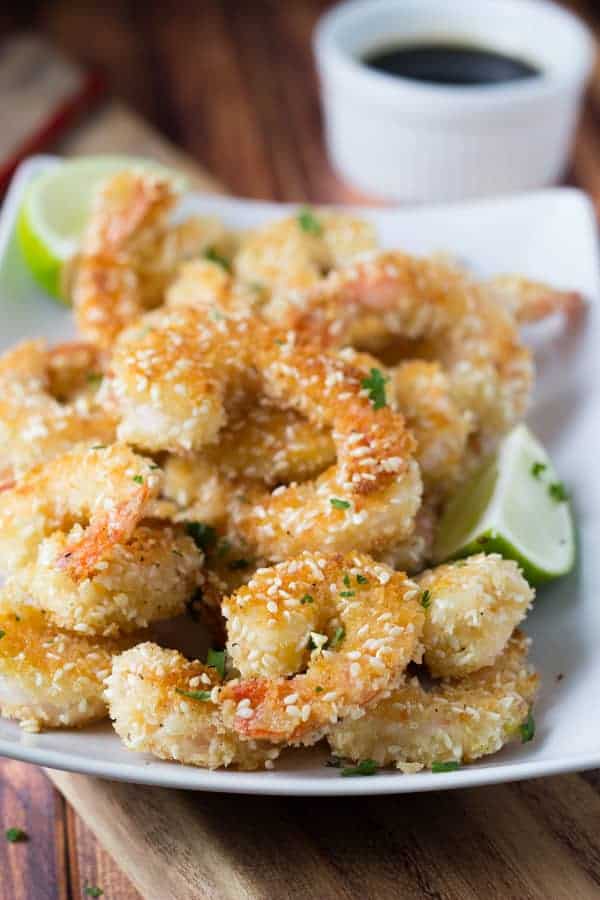 Crispy Sesame Panko Shrimp
Maple Lemongrass Chipotle Shrimp Tacos
4
adjust servings
Ingredients
Salad
1/4

cup white wine vinegar

1/4

cup olive oil

1/4

cup PURE Chipotle Lemongrass Infused Maple Syrup

1

teaspoon dijon

3

cups purple cabbage, shredded

2

carrots, shredded

1

bunch radishes, sliced thinly (around 10 radishes)

1/4

cup cilantro leaves, torn
Chipotle Lemongrass Maple Shrimp
24

medium shrimp, shelled and deveined

1/3

cup PURE Chipotle Lemongrass Infused Maple Syrup
To serve
Instructions
Salad:
Combine white wine vinegar, olive oil, maple syrup, and dijon, and shake until completely combined. Toss with all salad ingredients and allow to marinate while you prepare the shrimp.
Chipotle Lemongrass Maple Shrimp
Pre-heat barbecue on high.
Prepare shrimp, and thread onto bamboo skewers, around 4 shrimp per skewer. Make sure to leave space between the shrimp.
Cook on grill for 2 minutes per side, until completely pink and cooked through. Brushing with maple syrup after turning them. When cooked through, remove from grill, and brush with remaining syrup.
To serve
Spoon salad onto tortilla, and top with shrimp.
Disclaimer: I received free product for testing from PURE Infused.  All opinions are my own.  Thanks for supporting brands that make Sweet Peas & Saffron possible!

Check out the Pure Infused Maple Syrup website for more information about their flavoured maple syrup, and to order your own!