Four fruit filled meal prep snacks that you can prep ahead and enjoy through the week! Plus tips and tricks to get the most out of your weekly fruit prep.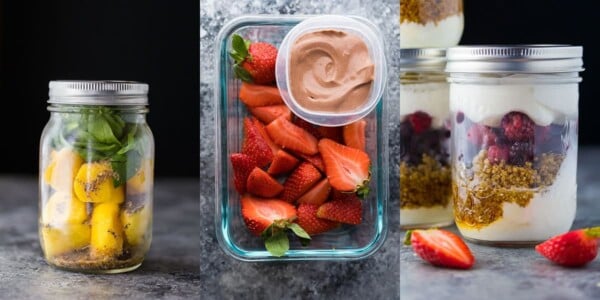 The best way to ensure that you get enough fruit in your diet is to prep it ahead. Wash it, chop it, peel it, portion it out, and you are set! Easy, healthy and delicious snacks that are perfect for grown ups and for kids.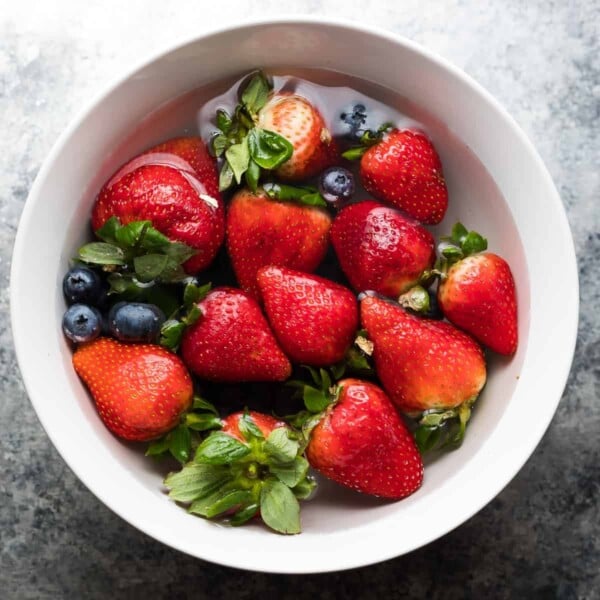 Here are some tips to make the most of your fruit prep:
Do a vinegar wash for your berries-  Combine 1 part vinegar with 5 parts water and soak your berries for 5 minutes. Drain, rinse thoroughly, and spread out on a towel to air dry. This step will kill of any mold and extend the shelf life of your berries.
Use frozen fruit-  When fruit is not in season, head to the freezer aisle! Frozen fruit is just as healthy as fresh fruit, and is often way cheaper. I love using frozen fruit in my parfaits because they thaw slowly and it helps them last for longer.
Keep fruit away from moisture- try adding a folded paper towel in the storage container to help absorb extra moisture. You can also find specialized produce saver food storage containers that hold the fruit above the moisture. I haven't tried these yet but have my eye on them.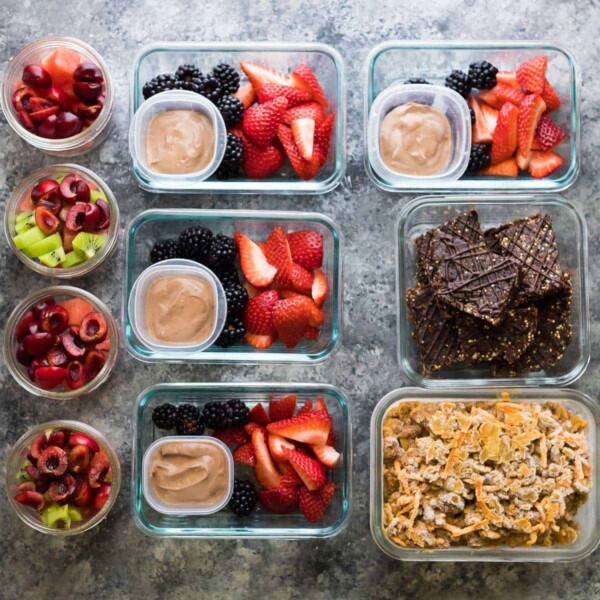 What kind of fruit is great to prep ahead?
Berries
Melons
Pineapple
Grapes
Pomegranate
Papaya
Many fruits are already perfect for 'on the go' snacking:
Apples
Bananas
Oranges
Kiwis
Looking for some fruit filled meal prep snacks?
Why not try out one of these simple meal prep snacks that take all of ten minutes to prep?
Freezer Smoothie Packs: in the video, I prepped this Green Mango Superfood Smoothie, but here you can find FIVE Make Ahead Breakfast Smoothies as well as my method of prepping them ahead. Keeps for up to 1 month in the freezer.
Quinoa Berry Parfaits: I love adding a scoop of cooked quinoa to my parfaits because it holds up SO much better than granola. Here you can see my recipe for High Protein Berry Yogurt Parfaits. Keeps for 3-4 days in the fridge.
Yogurt Fruit Dip: adding a small portion of yogurt dip makes you feel like you're eating something fancy! Check out these recipes for 3 Greek Yogurt Fruit Dips. Keeps for a week or so in the fridge.
Meal Prep Fruit Salad: this is kind of a 'non-recipe'. Portion out 1 cup of fruit, squeeze some lime over top, and sprinkle with some chili powder. Not a fan of chili powder? Try cinnamon! Play around with your favorite spice to add new flavors to your fruit. Keeps for 3-4 days in the fridge.
Don't forget to pin this recipe to save it for later!