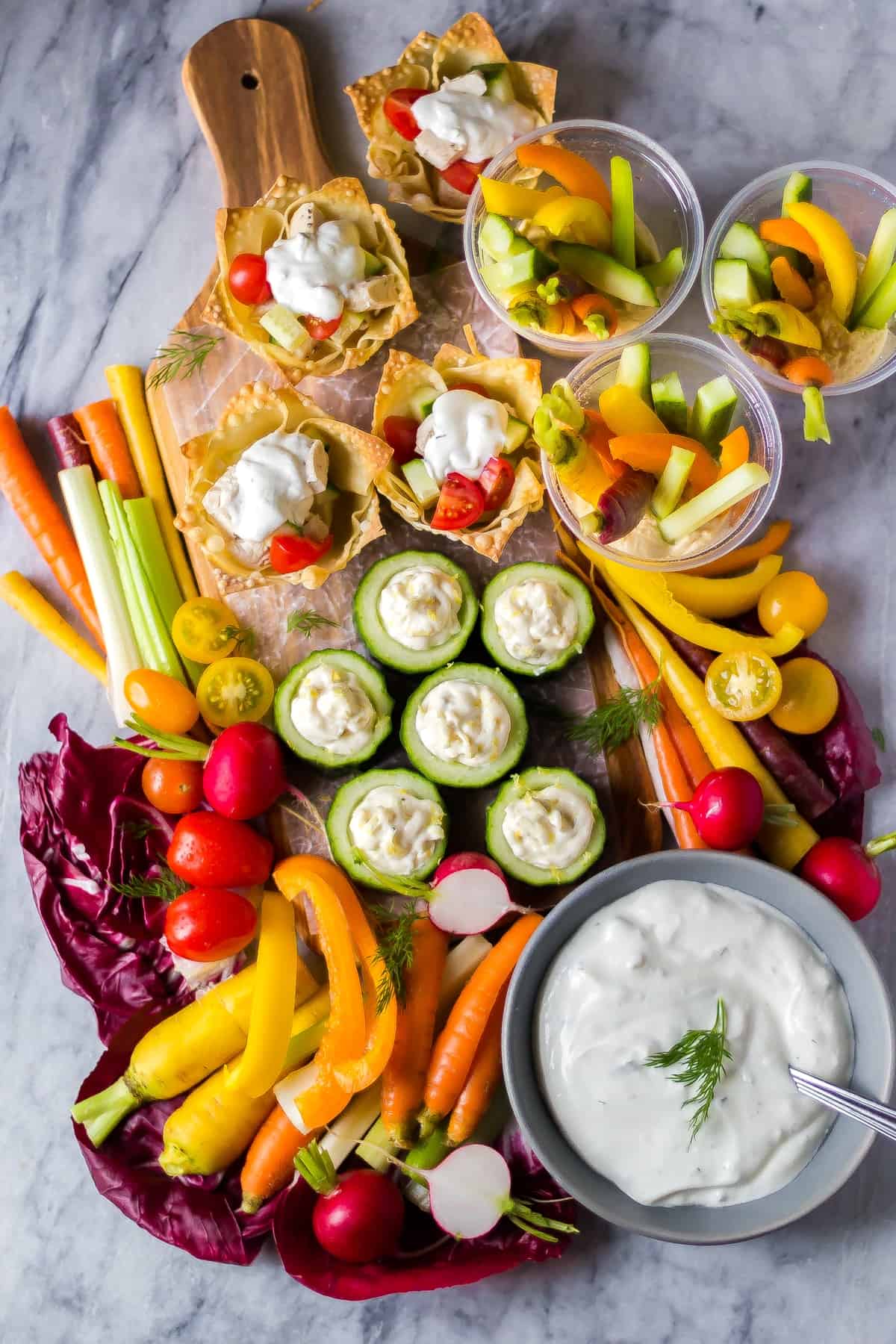 Three healthy holiday appetizer recipes, each with 5 ingredients or less!
Have you ever gone to a restaurant and just ordered appetizers for dinner?  I totally have!
If I could live off of appetizers for the rest of my life, I'd be one happy lady.
Sadly, many appetizers are wrapped in layers of puff pastry or loaded with cheese, which makes me feel not so great an hour later.  Appetizer guilt.  It's a thing.
So today I'm excited to share an alternative to those heavy, unhealthy appetizers I'm talking about.  I have three healthy appetizer recipes for us, and guess what?  They also happen to be SUPER easy to make!  Five-ingredients-or-less-kind of easy.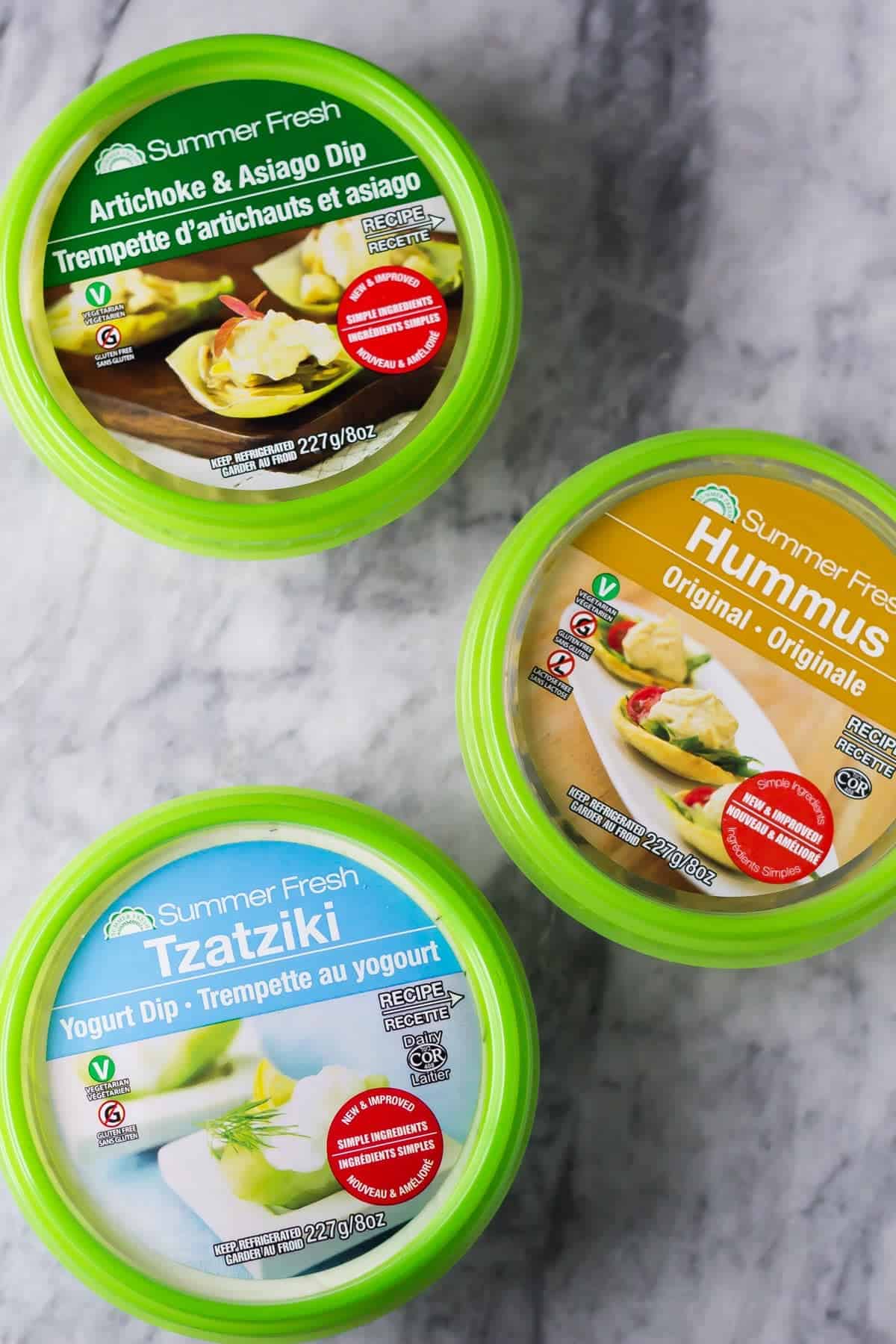 Today's post is in partnership with Summer Fresh, who are here to help with your holiday entertaining.
It's the holiday season.
You're busy.  I'm busy.  Our to-do lists seem to get longer every day.
We don't have to slave in the kitchen to pull off a killer party platter, and guess what?  We don't have to!  I'm here to show you how, with some shortcuts using Summer Fresh Dips.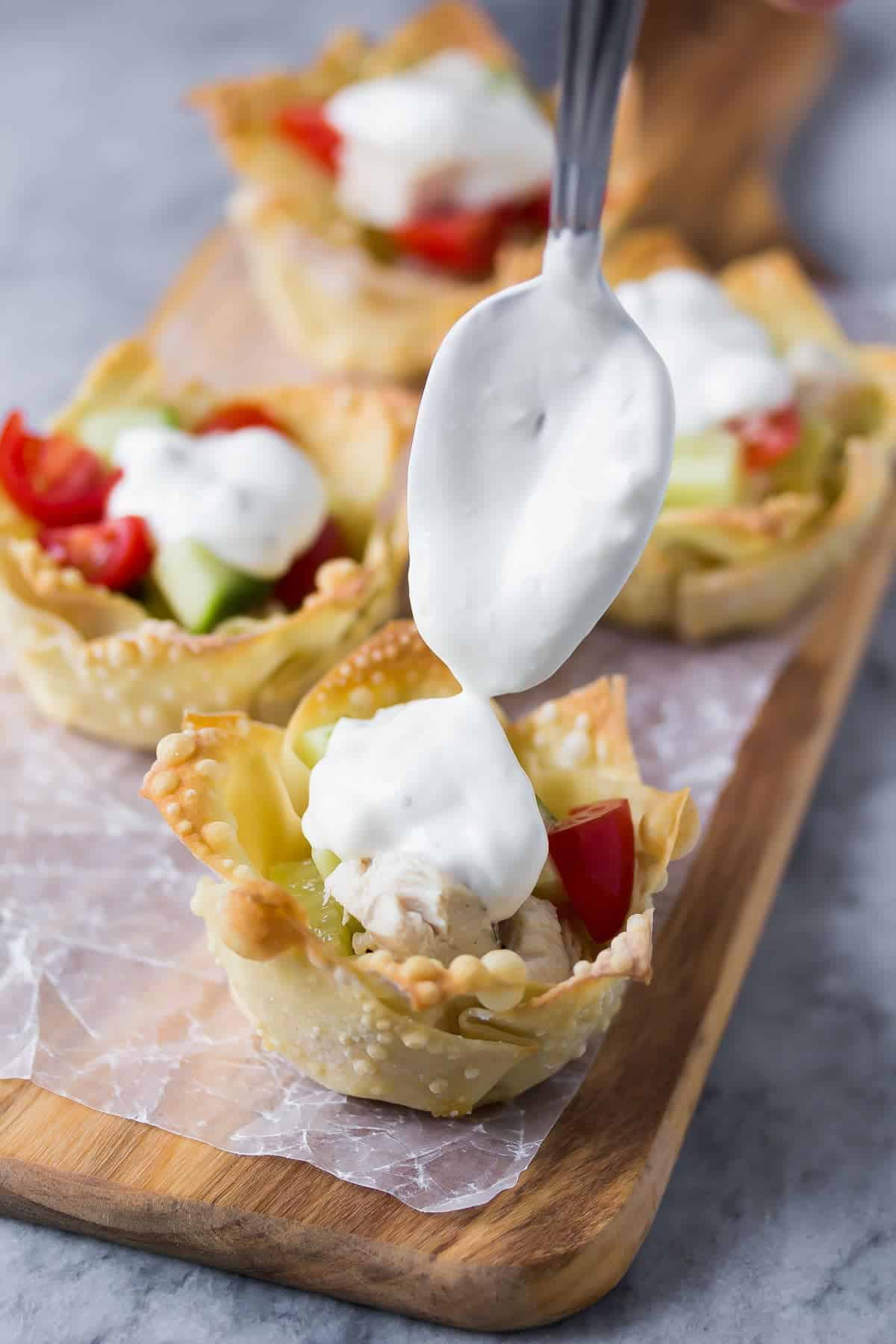 Frist up: Gyro Chicken Wonton Bites.  Hiiii delicious!  I haven't used wonton wrappers in ages (not since these cinnamon sugar wonton chips way back in the day), and it was time to bust them out again.
They are the perfect crispy vessel for chicken, cucumber, tomatoes and Summer Fresh tzatziki.  Kai helped me pick up the ingredients and it was so cute hearing him say 'sasiki'.  He he.
These gyro chicken wonton bites are ready in just 20 minutes if you use pre-cooked rotisserie chicken.  Just bake up your wonton wrappers, let them cool, and fill.  They even keep for a few hours after filling (I'd leave off the tzatziki until just before serving).
Gyro Chicken Wonton Bites
12
adjust servings
Ingredients
24

wonton wrappers

1

cup rotisserie chicken, chopped

1/2

cup chopped cucumber

1/2

cup chopped tomatoes

Summer Fresh Tzatziki
Instructions
Heat oven to 350°F.
Spray a muffin tin with oil, then work a wonton wrapper into each cavity. Add a second wonton wrapper, rotating so the corners don't overlap. Spray each wonton cup with oil.
Bake for 7-10 minutes, until edges are crispy and golden. Allow to cool completely in the muffin tins.
Add 1 tablespoon of chicken and 1 tablespoon of cucumber/tomato mixture to each cup.
Top with tzatziki just before serving.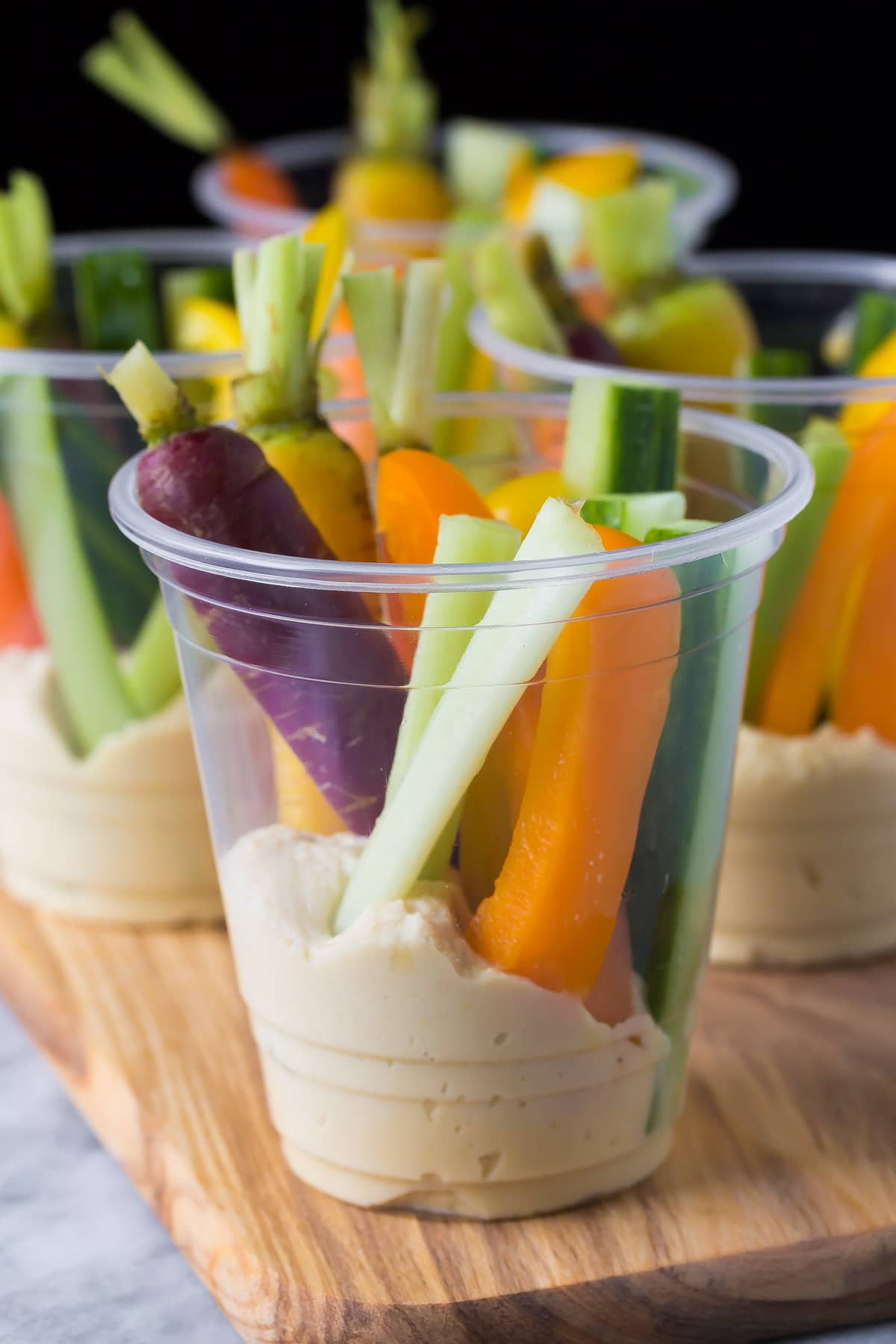 Up second are these hummus crudite cups.  Aren't they cute?  These appetizers keep your party free from any George Costanza-esque double dipping drama 😉
These are great for kids and make clean up a breeze!  And they are pretty much the easiest appetizer ever to make…ten minutes prep time total.
12
adjust servings
Ingredients
2

packages Summer Fresh hummus

4

carrots, cut into carrot sticks

2

bell peppers, sliced

3

sticks celery, sliced

1

long english cucumber, sliced
Instructions
Place 2 tablespoons of hummus in the bottom of small cups.
Add vegetables into the cup until full.
Recipe Notes
May be pre-assembled and stored (covered) in the fridge for several hours.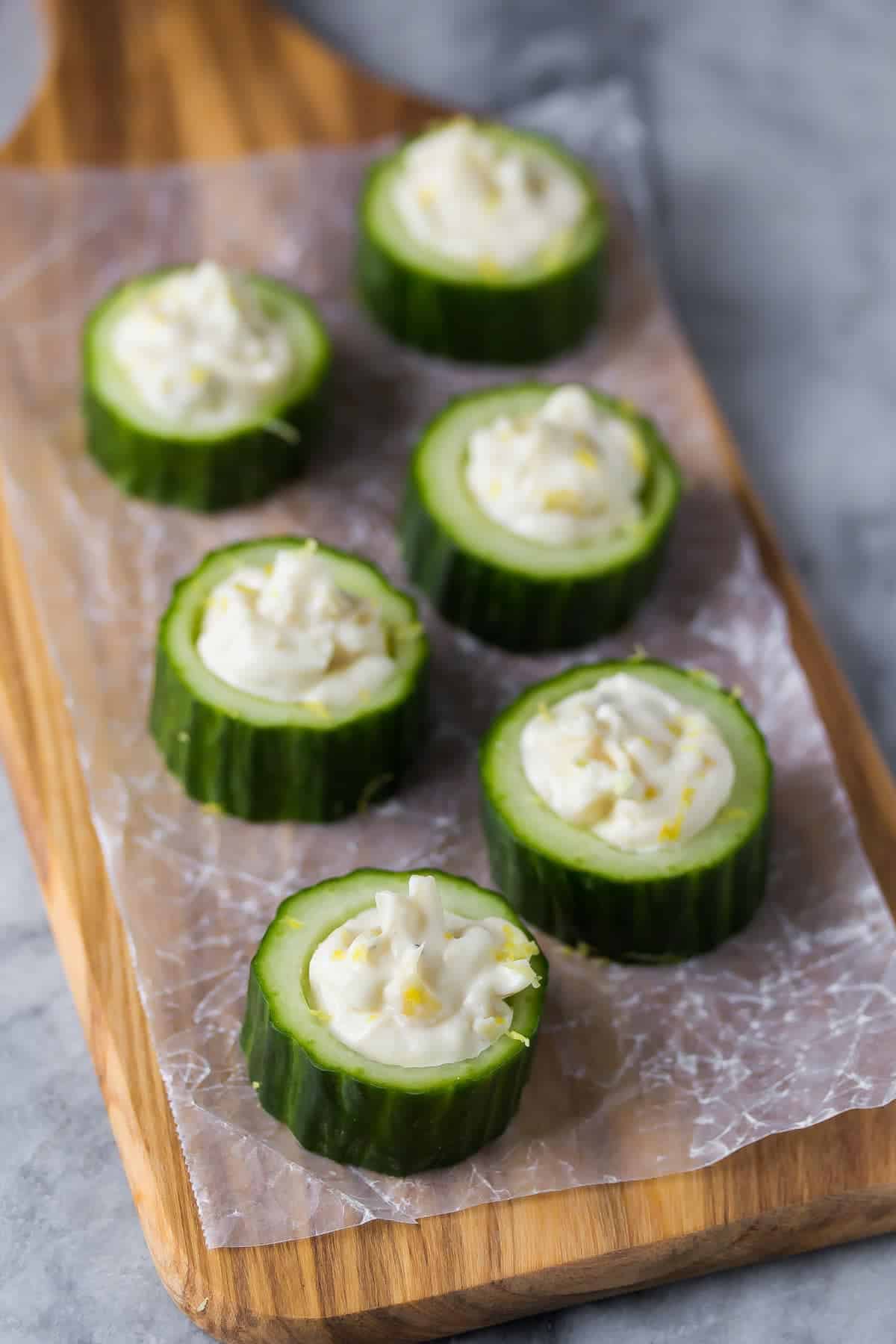 I've saved the best for last.  These Artichoke & Asiago Cucumber Cups win the award for 'easiest to make' and for flavor, too!
I got the idea for these cucumber cups from my friend Natalie at Tastes Lovely.  She made these adorable Tuna in Cucumber Cups last year and I've been obsessed ever since.
Simply scoop out some cucumber chunks, spoon in the Artichoke and Asiago dip, and sprinkle with some lemon zest.  DONE.
Artichoke Asiago Cucumber Cups
12
adjust servings
Ingredients
1

long english cucumber, cut into 1 inch thick slices

1/2

package Summer Fresh Artichoke Asiago dip

lemon zest
Instructions
Using a 1 teaspoon measuring spoon, carefully scoop a small cup into the cucumber.
Spoon the artichoke & asiago dip into the cavity.
Top with lemon zest.
Recipe Notes
These are best served within an hour of prepping them.
There you have it!  Three healthy holiday appetizer recipes that will impress your guests, take you no longer than 20 minutes to prepare, and leave you without feeling 'appetizer guilt'.
Are you feeling ready to face the holiday season?  I say bring it on!
Disclosure: thank you to Summer Fresh for sponsoring this post.  As always, all opinions are my own.